The mention of the word "Santorini" evokes images of white-washed buildings with blue domes perched precariously over the glistening sea and black sand beaches. The sheer cliffs that tower above the infinite blue of the Aegean Sea on this crescent-shaped volcanic island, are some of those things that almost do not seem real and you will never forget.
Aside from being one of the most beautiful islands in Greece, Santorini is also one of the world's most famous dream destinations. There are postcard-worthy locations everywhere you go, and in this "Santorini 3-day guide", you will find everything you need to learn in order to plan your next trip.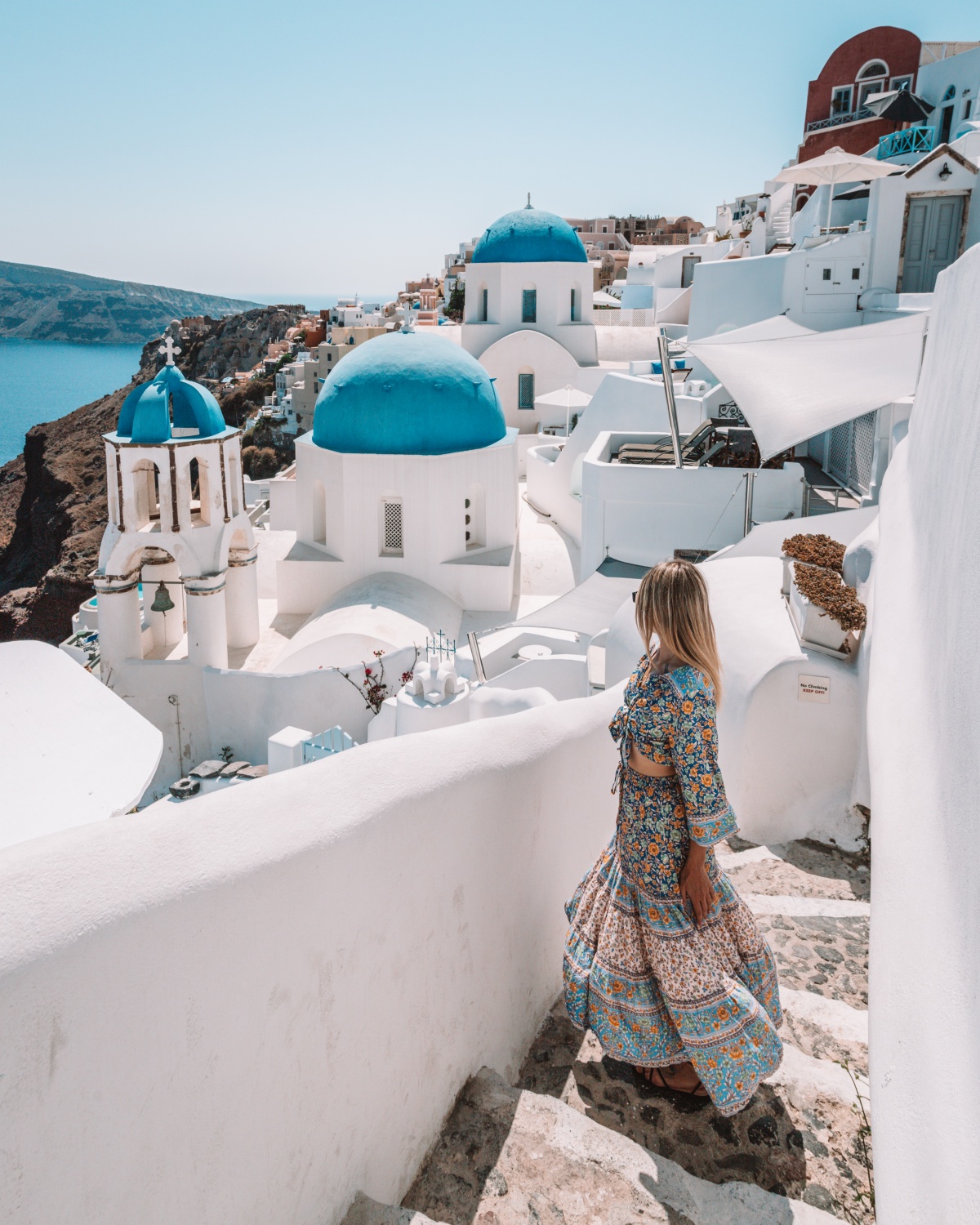 How to reach
You can catch a flight or take a daily ferry boat service that runs all year from the port of Piraeus and almost all of the Cycladic islands. If you are traveling from Europe chances are there is a direct flight from your country to Santorini. Otherwise, you can have a stop in Athens or Thessaloniki and then fly to this majestic island.
WHEREABOUTS
The most iconic towns in Santorini are Fira, Oia, Imerovigli, Firostefani. Personally, I would recommend Fira or Imerovigli as the base for your stay. Fira is the capital of the island, the biggest, busiest and most cosmopolitan town. Imerovigli is between Fira and Oia, perched at the highest point of the cliff-side. The most luxurious and expensive hotels in Santorini are in the famous town, Oia.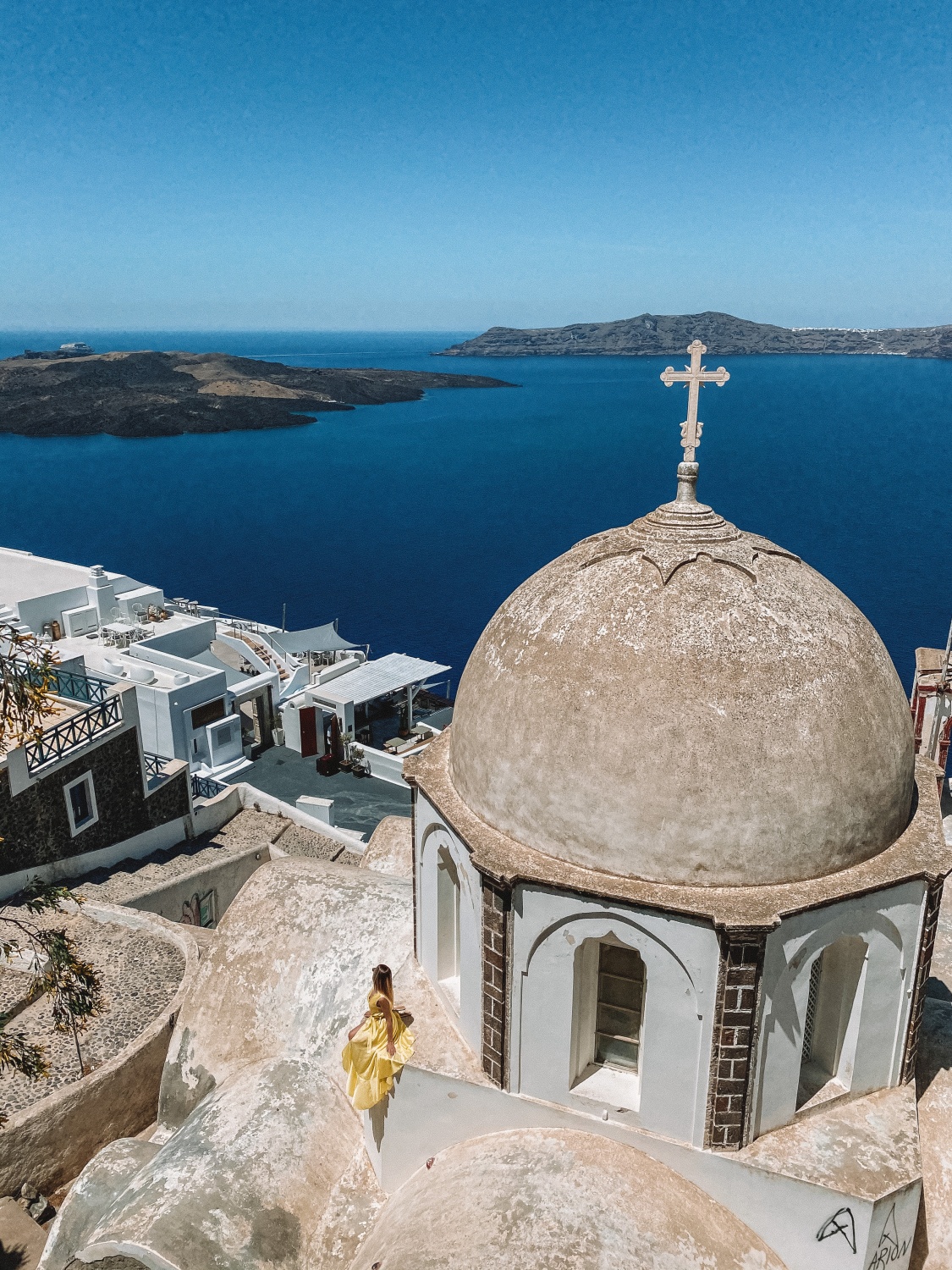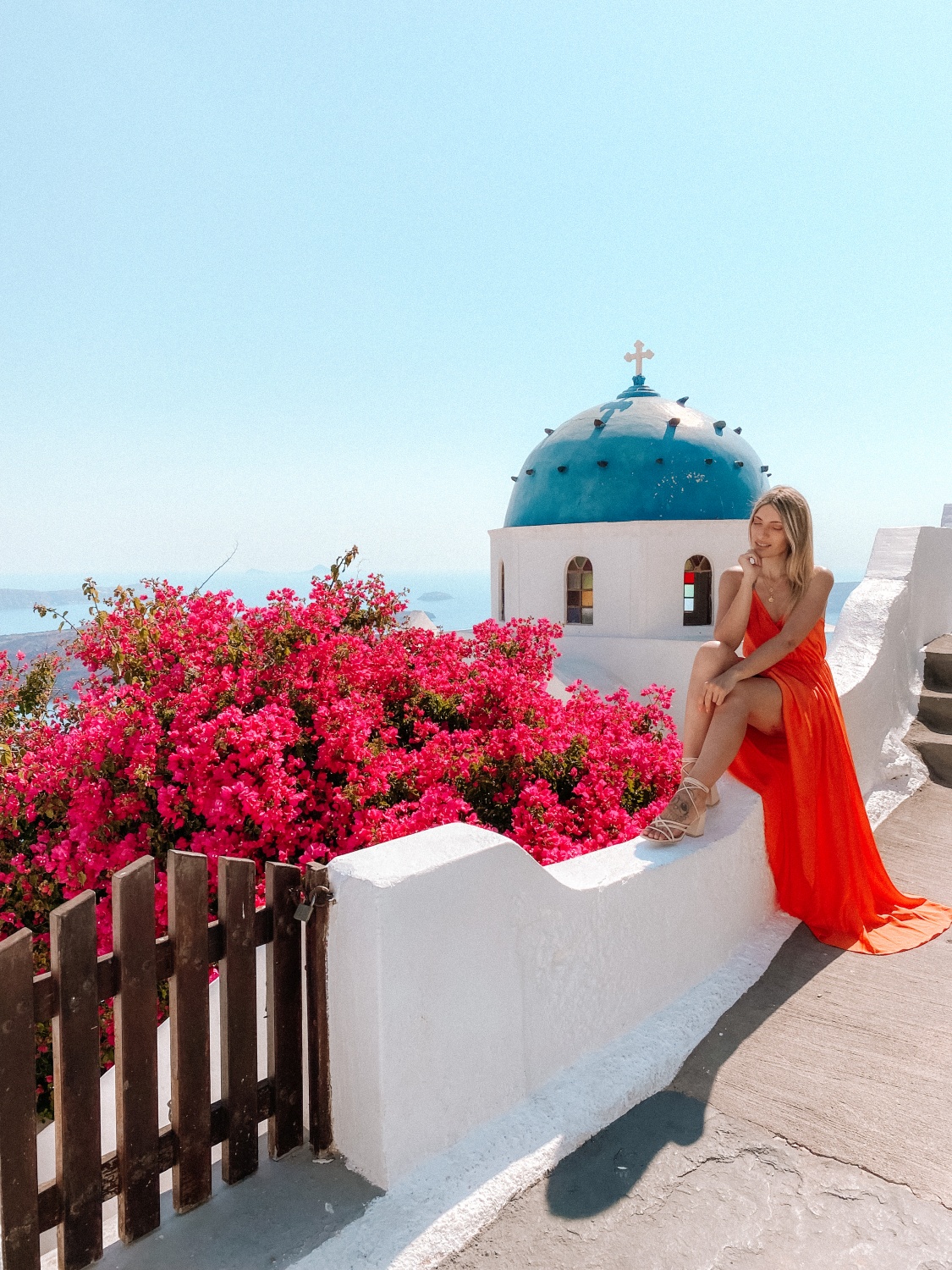 However, a stay in Oia is ideal if you want to be right in the middle of the action and do not mind paying the extra money for it. In the evenings, though, the narrow streets of Oia become incredibly crowded, especially during sunset hour.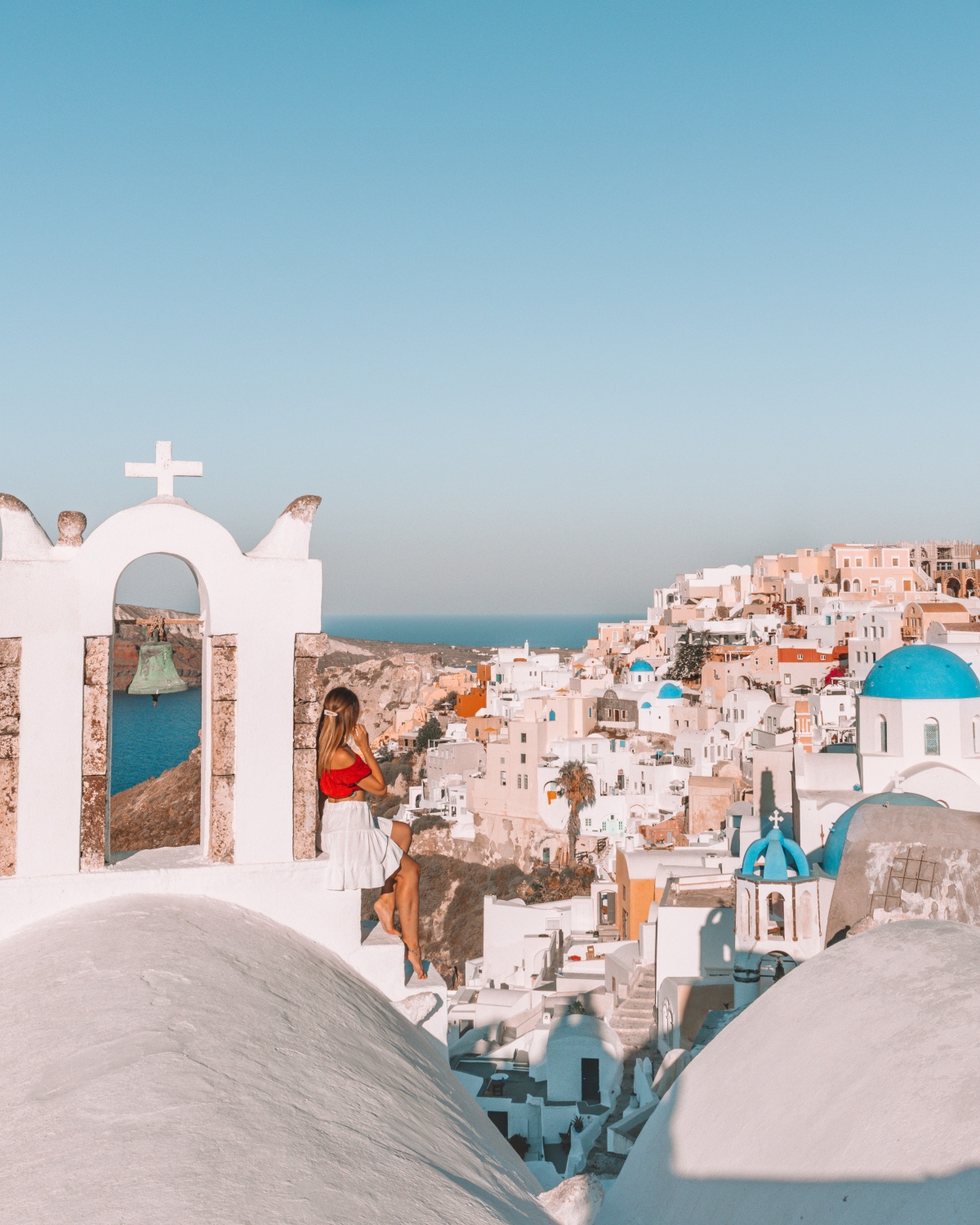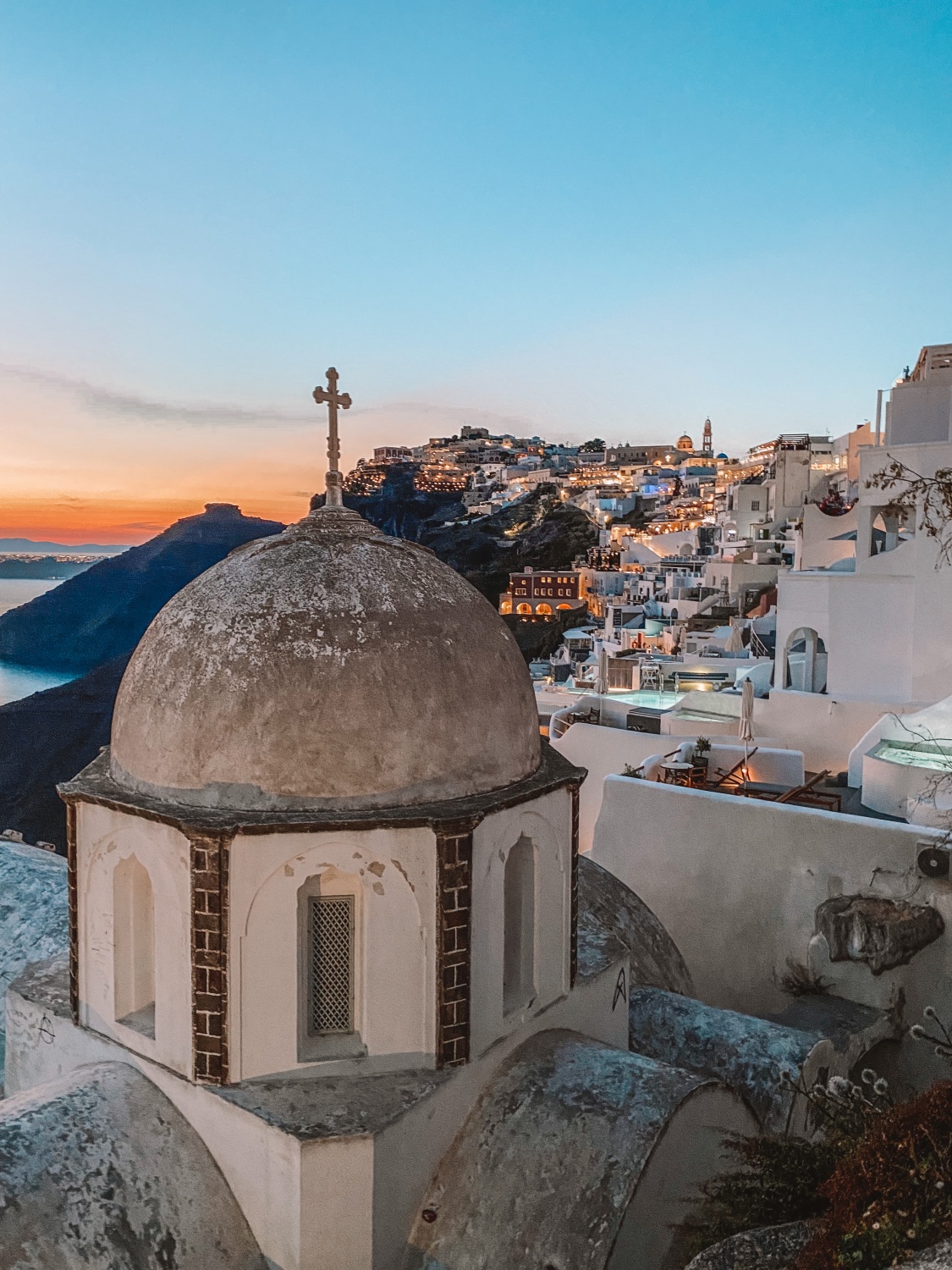 Stay in Fira if you want to be near nightclubs, restaurants, shops, and local buses that can take you almost anywhere on the island. You will get spectacular views of the volcano, Caldera and sunset while also being in a lively place. There are a variety of hotel options to suit every budget, all offering breathtaking views as well as excellent service.
ACCOMMODATION
Kamares Apartments in Fira, one of the most iconic settlements of Santorini, is the perfect choice for you to stay at. It features elegant apartments with views of the Caldera and the beautiful sunset, all built in the characteristic Cycladic-style. Kamares Apartments are situated right over Santorini's breathtaking Fira cliff. A fully equipped kitchenette with a fridge is included in the white-washed apartments. In addition, each room has air conditioning and television.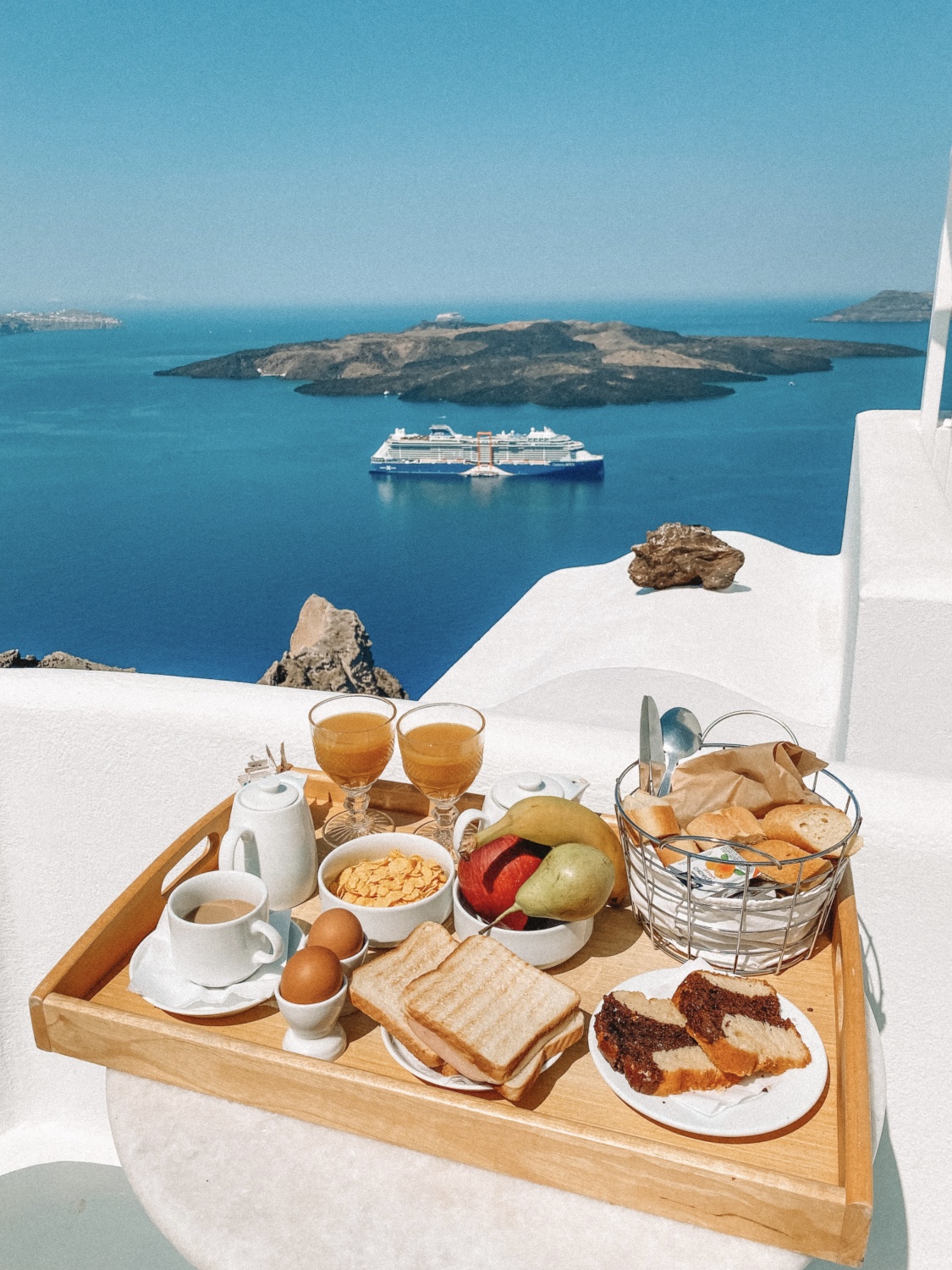 But who needs a television if you can enjoy a glass of wine while watching the famous Santorini sunset from your suite's private terrace, relaxing in the hot-tub and having spectacular views all to yourself? The Aegean Sea, the volcano and the island of Thirasia, can all be seen from Kamares' privileged location. Free parking is also available for guests arriving by car.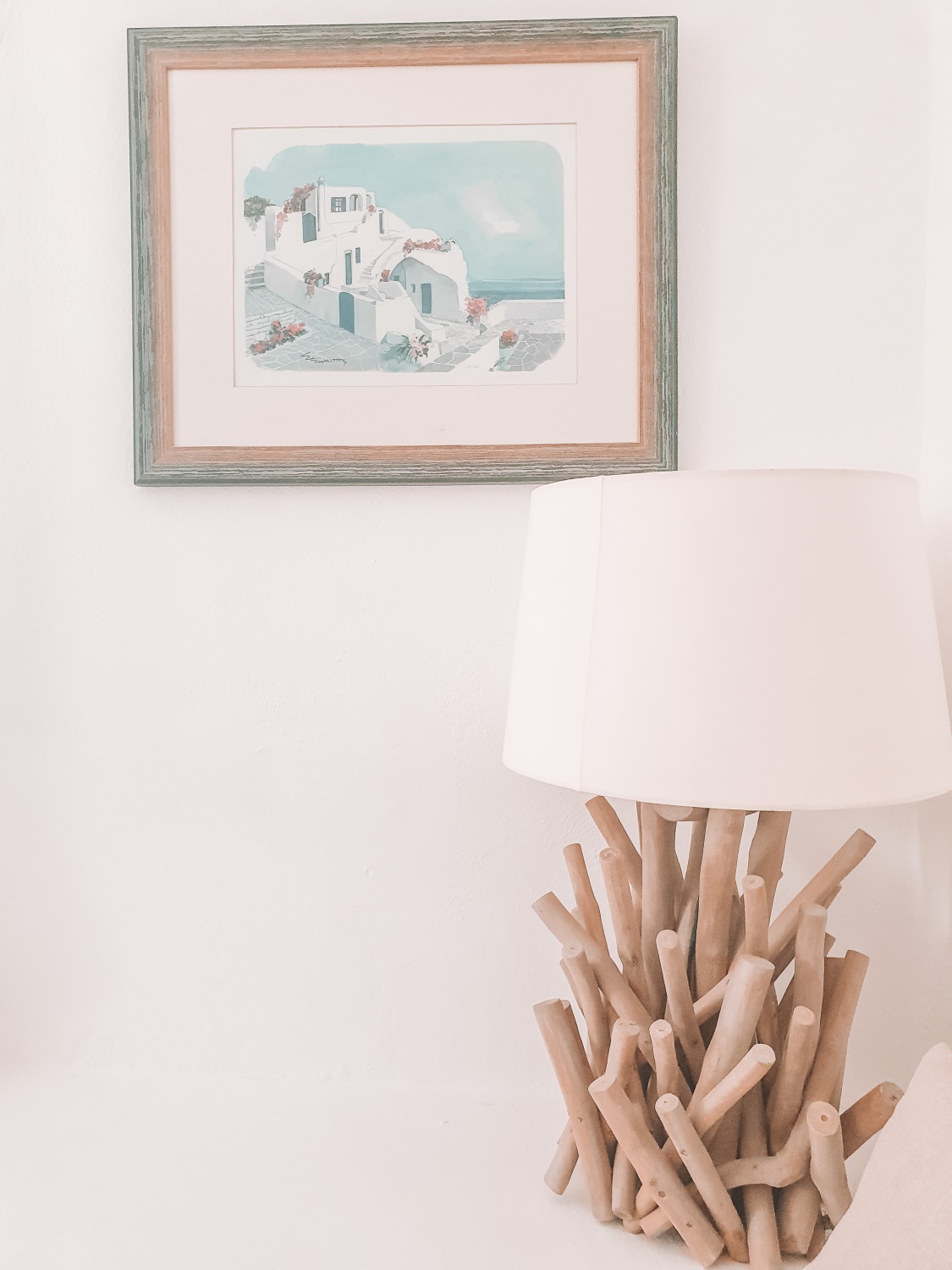 Although it is a 2 minute walk from the main square of Fira, it is still in a quiet location allowing you complete peace of mind. Once you check-in, you can fill a form to preselect your breakfast for the next morning, which will be served in your suite. Waking up and having your breakfast with an endless blue view is indeed the cherry on top!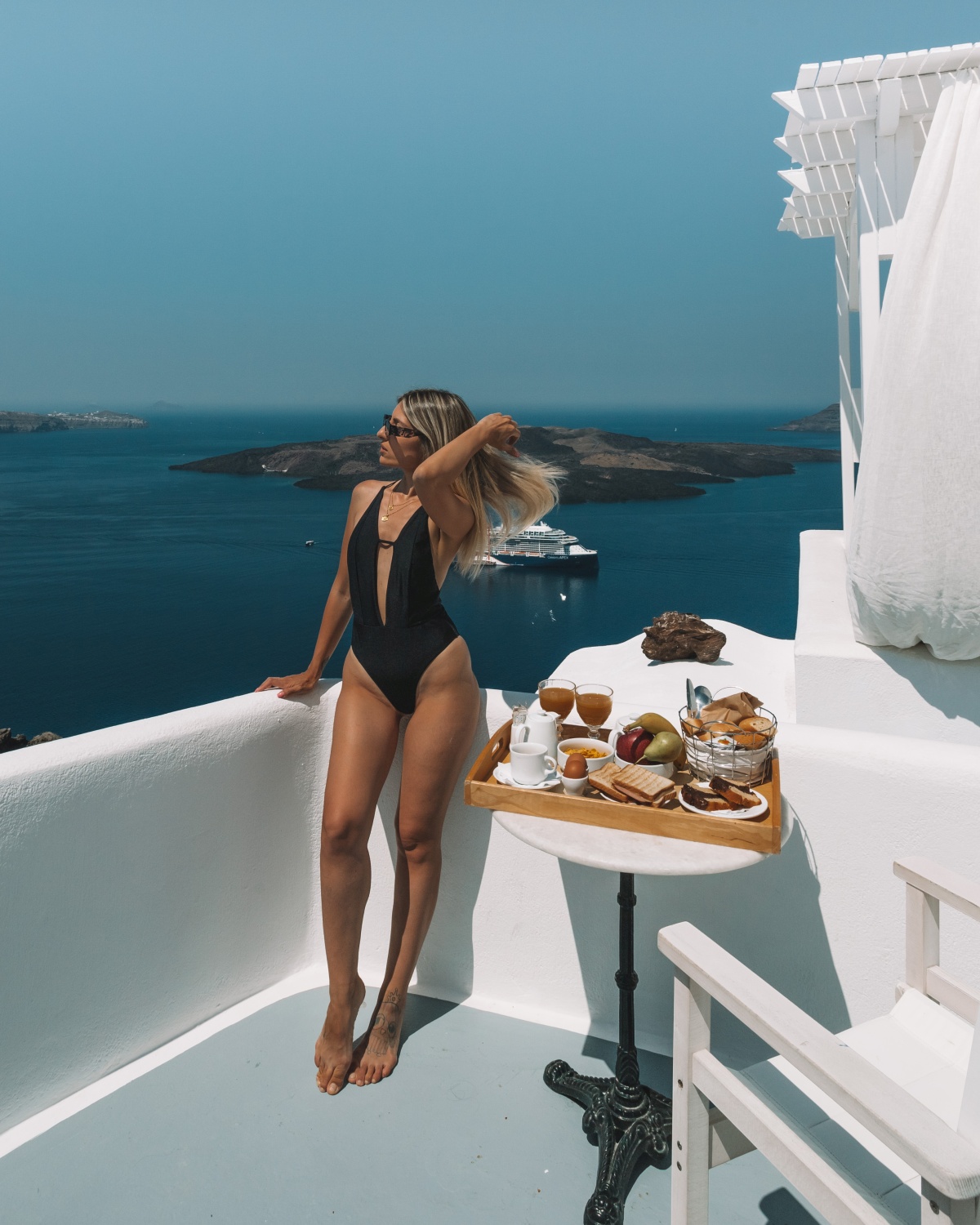 FOOD
"Galini Café" , Firostefani –
You will have an unforgettable brunch experience here. The café is a bit pricey but still worth a visit. Plus, you can take the most Instagrammable pictures at its terrace!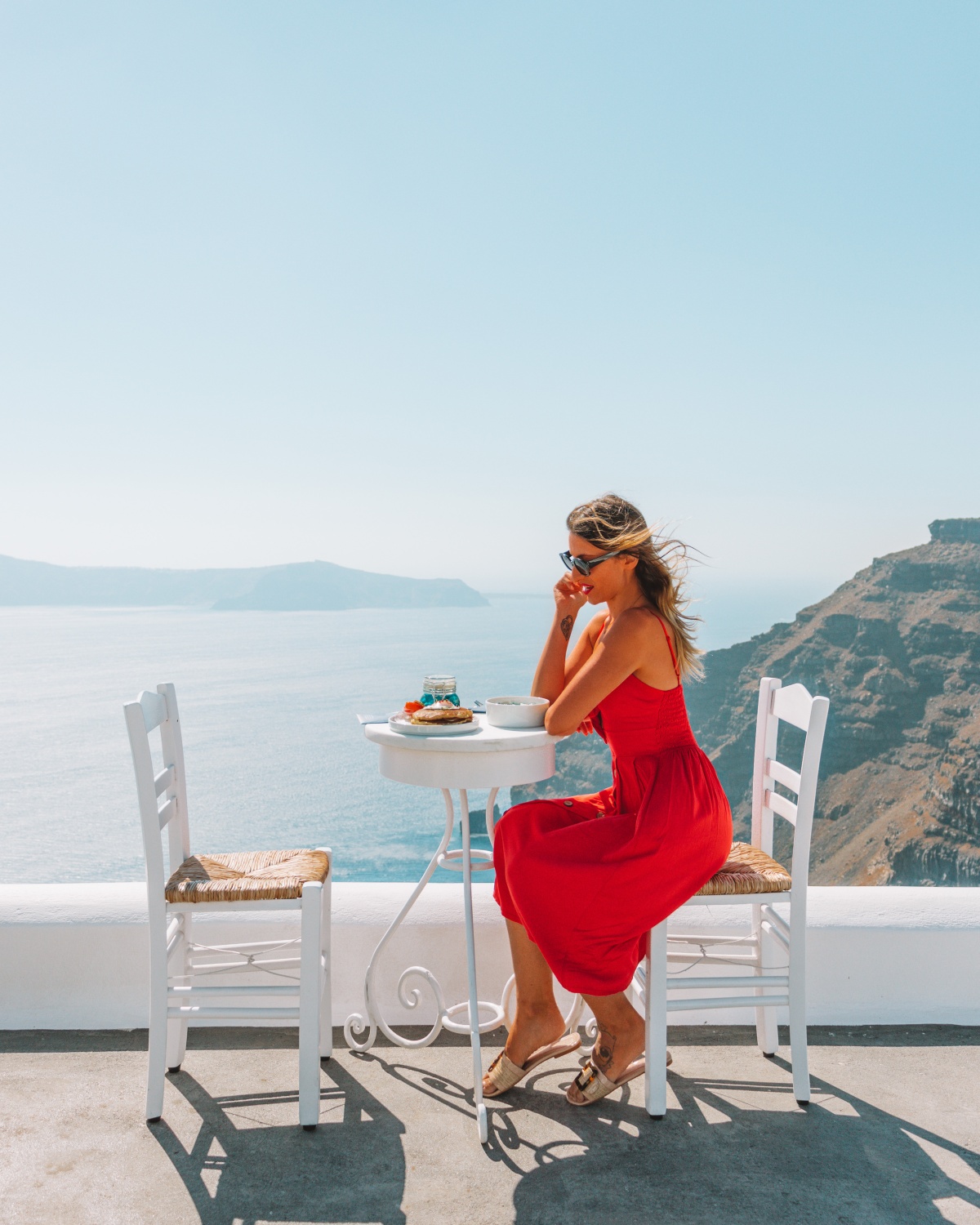 "Cacio e Pepe" Italian Restaurant, Fira –
For mouth-watering Italian cuisine, visit here.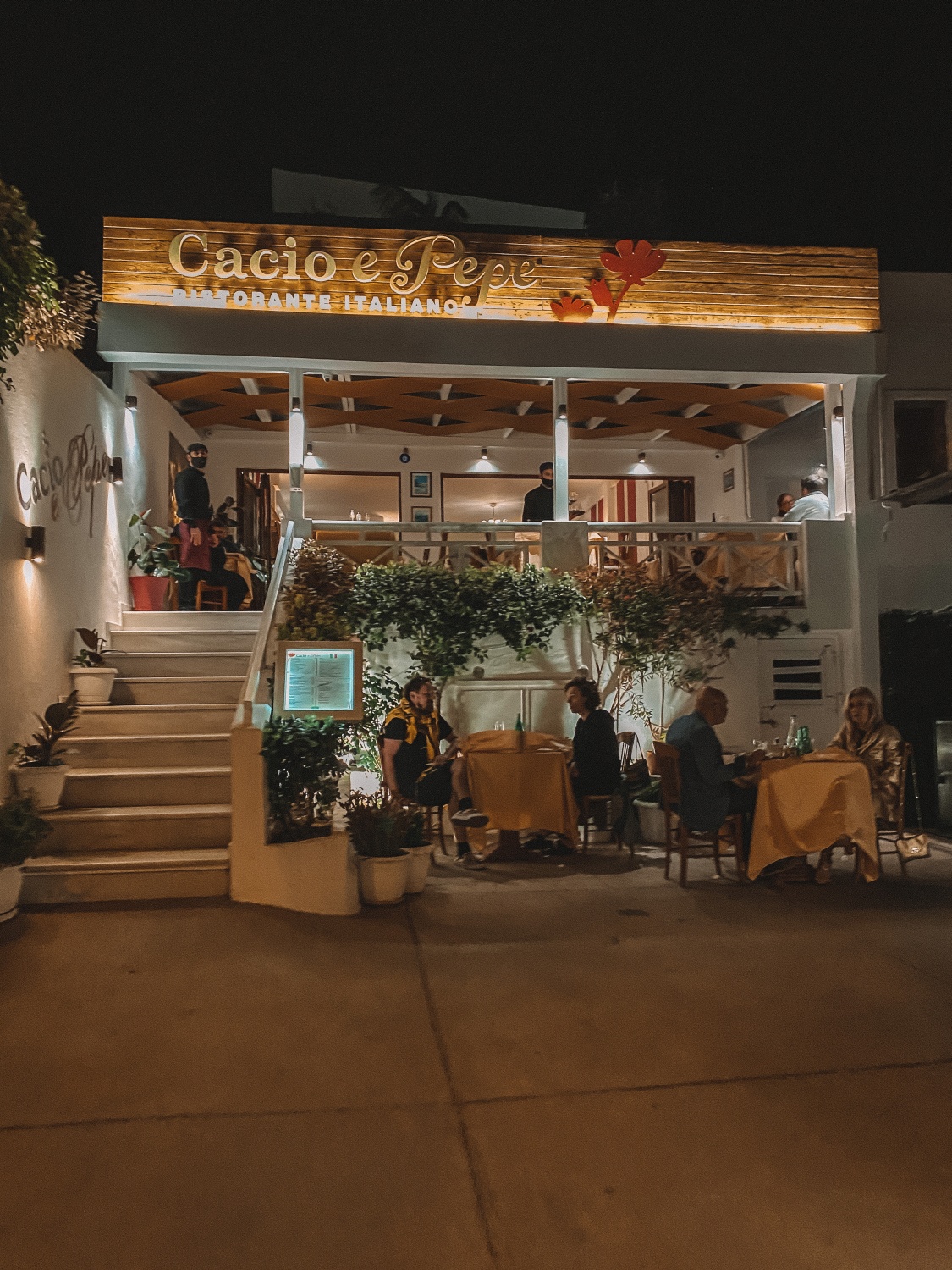 "Melenio Café" , Oia –
With a fantastic view of the Caldera, sip your coffee and eat a homemade chocolate pie or orange pie with ice cream.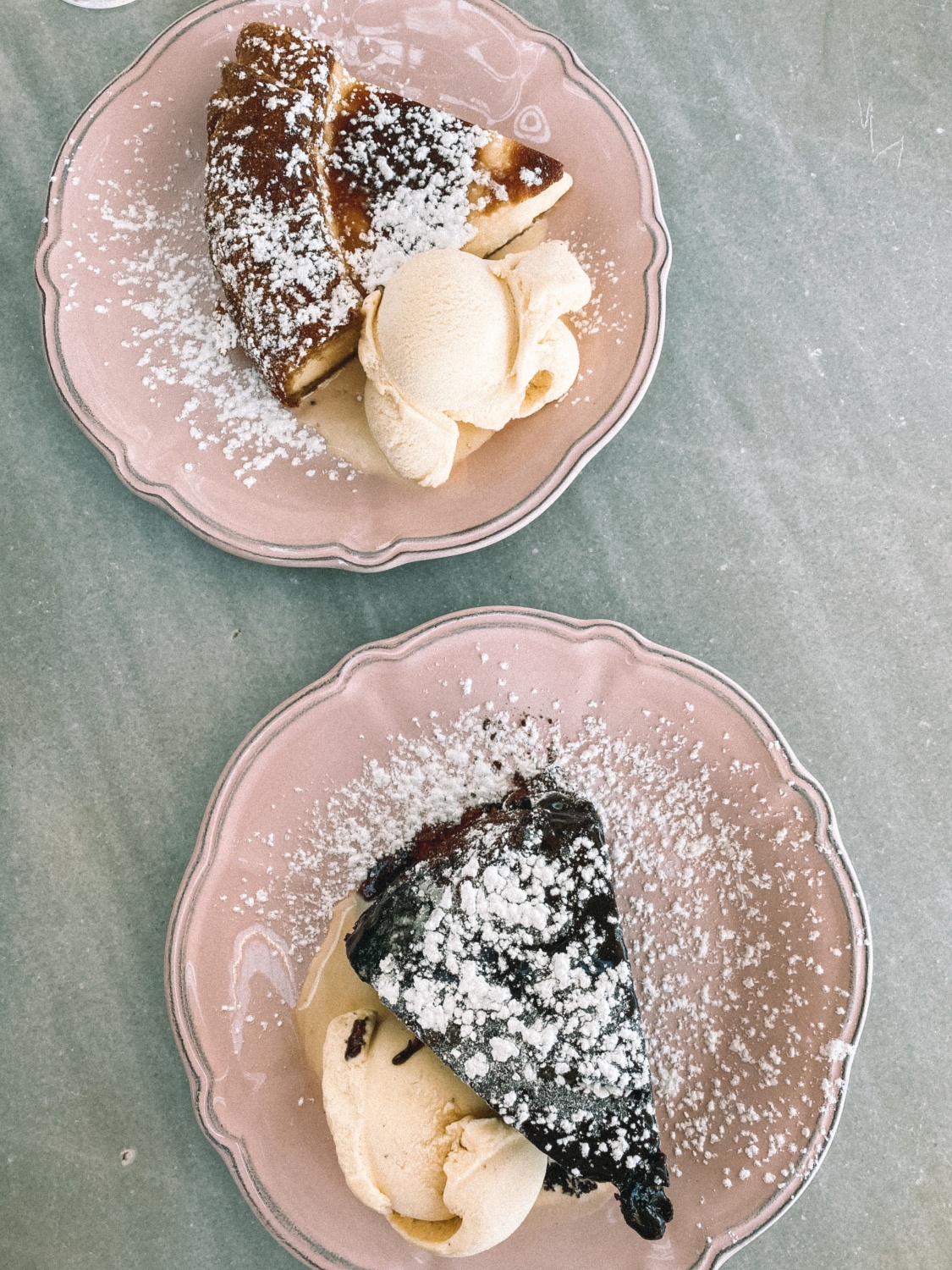 "Meteor Café", Oia –
A small, aesthetically pleasing café with a cozy terrace. The balcony offers a fantastic view for a picture for your Instagram feed.
DRINKS
"PK Cocktail Bar" , Fira –
It's a must-visit if you want to enjoy a drink while watching the sunset over the Caldera. Make sure to reserve a spot well before your visit because it is always full, especially during peak season. This is the best place in Fira to watch the sunset!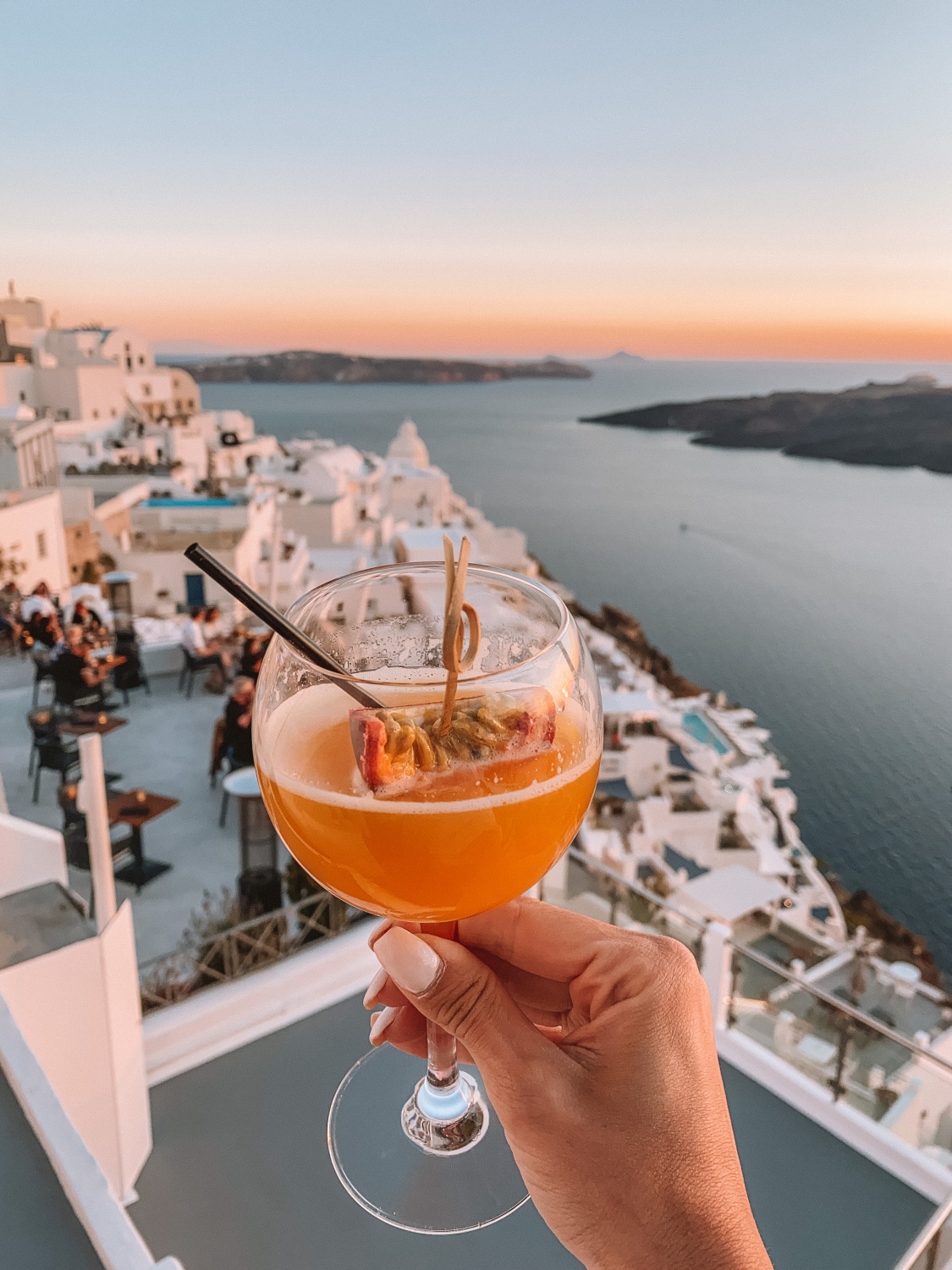 "Tango" Bar, Fira –
Excellent spot for late-night drinks, with amazing music, ambience and a romantic view. I would recommend to make a reservation beforehand because it is extremely difficult to find a seat, especially If you decide to go for a last-minute drink.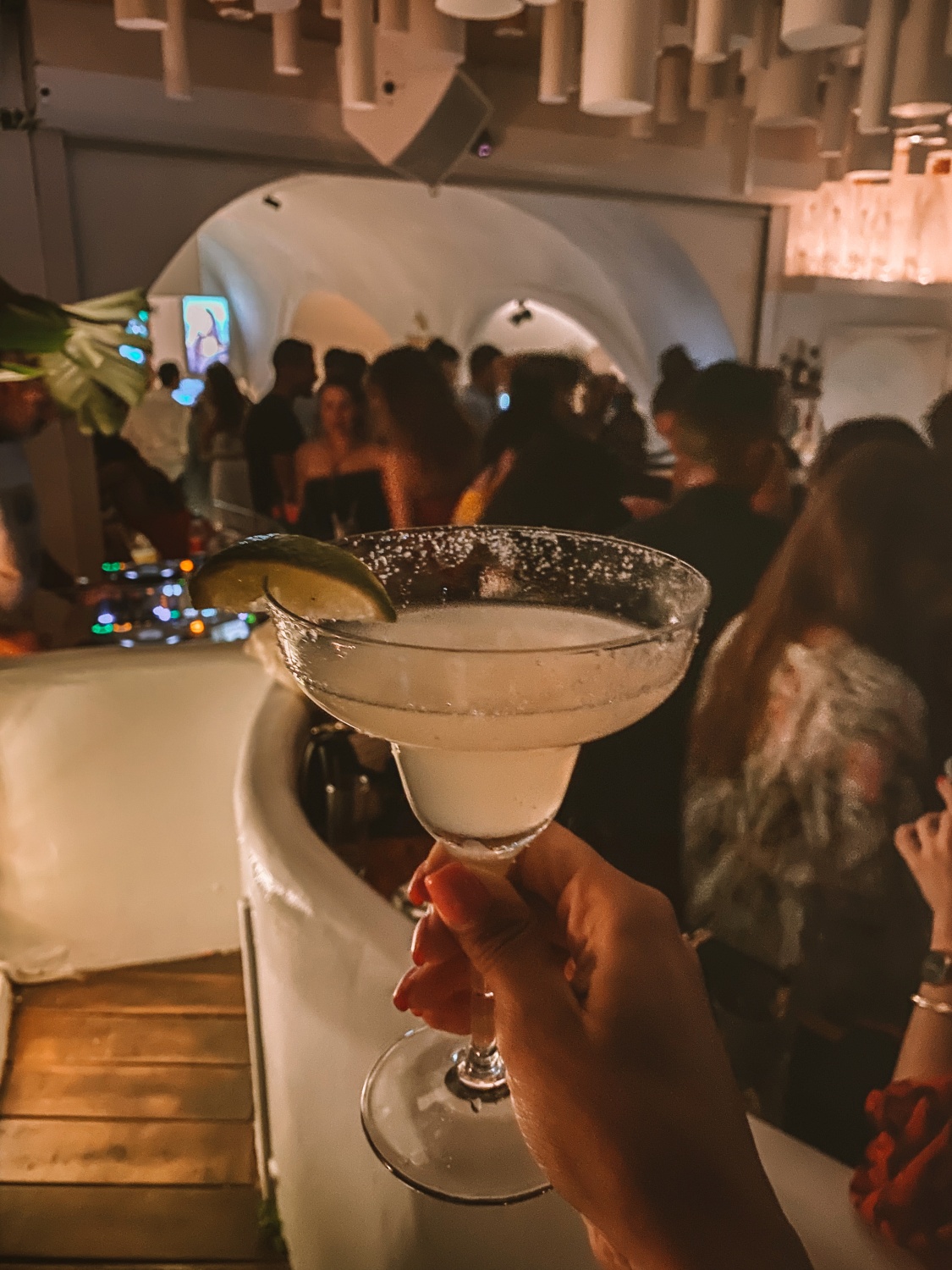 Explore the island with Santorini Road Trips
Book a tour with Santorini Road Trips and you will not regret it. You have a number of options: see the highlights of the island, get a glimpse of Santorini's less-touristy side, learn about Greek culture, visit the famous Santorini wineries. Private Guided Tours are a specialty of Santorini Road Trips, and they are ranked number #1 on TripAdvisor.
Santorini Road Trips provide luxurious, private, spacious mini-vans. You can choose from one of their tour packages or easily create one of your own.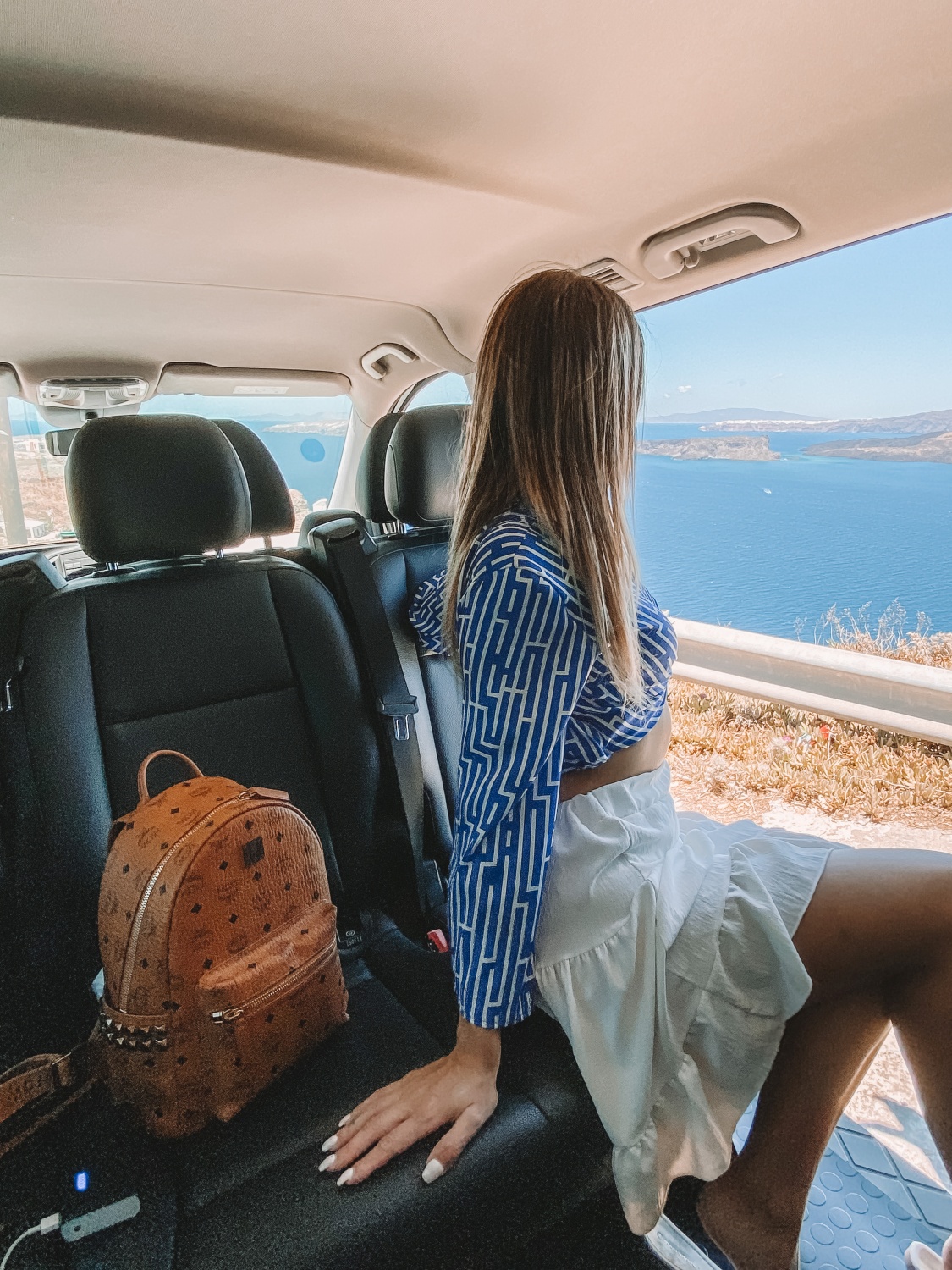 Their best-selling tour package is of course the Private Classic Santorini Panorama which is a 6-hours long private journey through the entire island, starting at € 300 for two persons.
The "Tailor-Made" tour is also a great option: A flexible tour of Santorini customized to your preferences starting at € 150, depending on the places you want to visit and the tour duration time.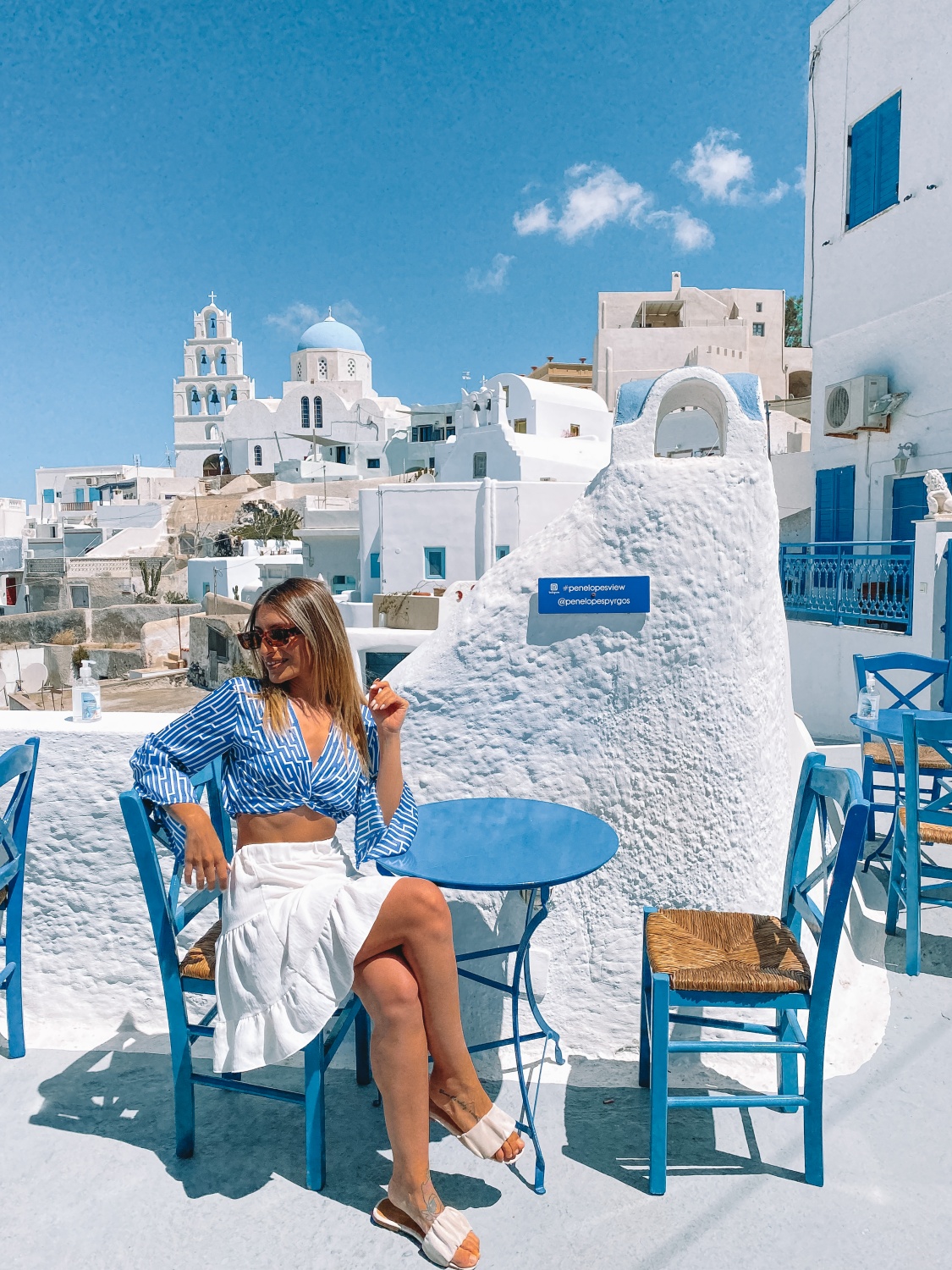 We took a tour with Santorini Road Trips and visited the following places:
Megalochori Village: It is one of Santorini's most traditional wine-producing villages, on the island's west coast, 6 kilometres south of Fira.
Pyrgos Kallistis: Most remarkable aspect of this place is that it is built into the side of the hill in an amphitheatric way.
Akrotiri: Akrotiri, a Bronze Age settlement, was one of the most significant Minoan cities.
BEST TIMES TO VISIT
If you want to get the most out of your trip, go from May to mid-June or from mid-September to the middle of October, when Santorini is less crowded.
The itinerary I have created is intended to help you plan your trip and serve as a guide. In addition, I hope it will inspire and encourage you to visit the island really soon! It is a gorgeous, enchanting island, an absolute must-visit. Have a great trip!