Please note: This guide is regularly updated to ensure it reflects the most current information available.
Rome, the "Eternal City", has always held a special place in my heart. As Italy's capital and one of the most popular tourist destinations worldwide, Rome's historical significance never ceases to amaze me. The Colosseum, standing strong for over 2,000 years, is just one of the many marvels that have made Rome an iconic destination. Its ancient cobblestoned streets and fascinating landmarks make it a city that captivates everyone who enters.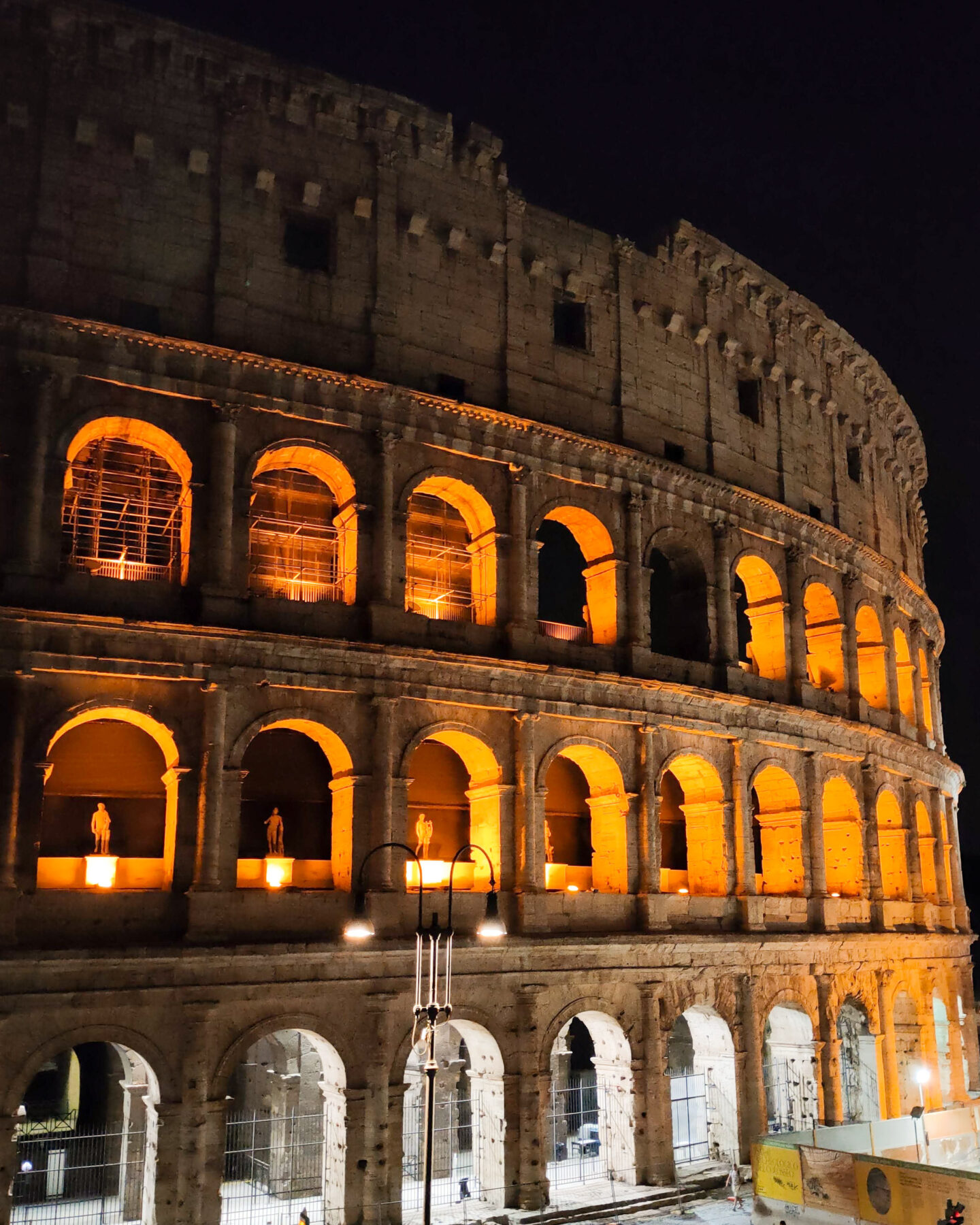 Even locals who have lived in Rome for years have not seen it all, and the phrase "Non basta una vita" ("One life is not enough") reflects this truth perfectly. The city boasts numerous impressive and beautiful sights, including art and archeological museums, fountains, piazzas, and other attractions. Not to mention the delectable food, drink, and gelato that could occupy your taste buds for months on end. In fact, exploring Rome's streets is like exploring an enormous museum, with stunning monuments, churches, and statues from centuries ago around every corner. I am Cynthia, and in this ultimate guide I will show why seven days in Rome is just enough time to scratch the surface of what this unique city has to offer.
HOW TO GET TO ROME
Getting to Rome is easy, as the city is well-connected by air, rail, and road. The Leonardo da Vinci-Fiumicino Airport is the main international airport serving Rome, while Ciampino Airport is another popular option for budget airlines. The city is also accessible by train, with Rome Termini being the main railway station. If you prefer driving, there are several highways that connect Rome to other major Italian cities. Once you're in the city, the best way to get around is on foot or by using public transport such as the metro, buses, and trams.
ACCOMMODATION
When it comes to deciding which hotel or neighbourhood is best for you, Rome can be a little perplexing. This is is because it's a city that is best discovered on foot.
Staying in the city centre allows you to walk to almost all major attractions. It's a little more on the expensive side, but the sights you will see on the roads are well worth the money.
Personally, I would recommend you stay at "Residenza Antica Roma".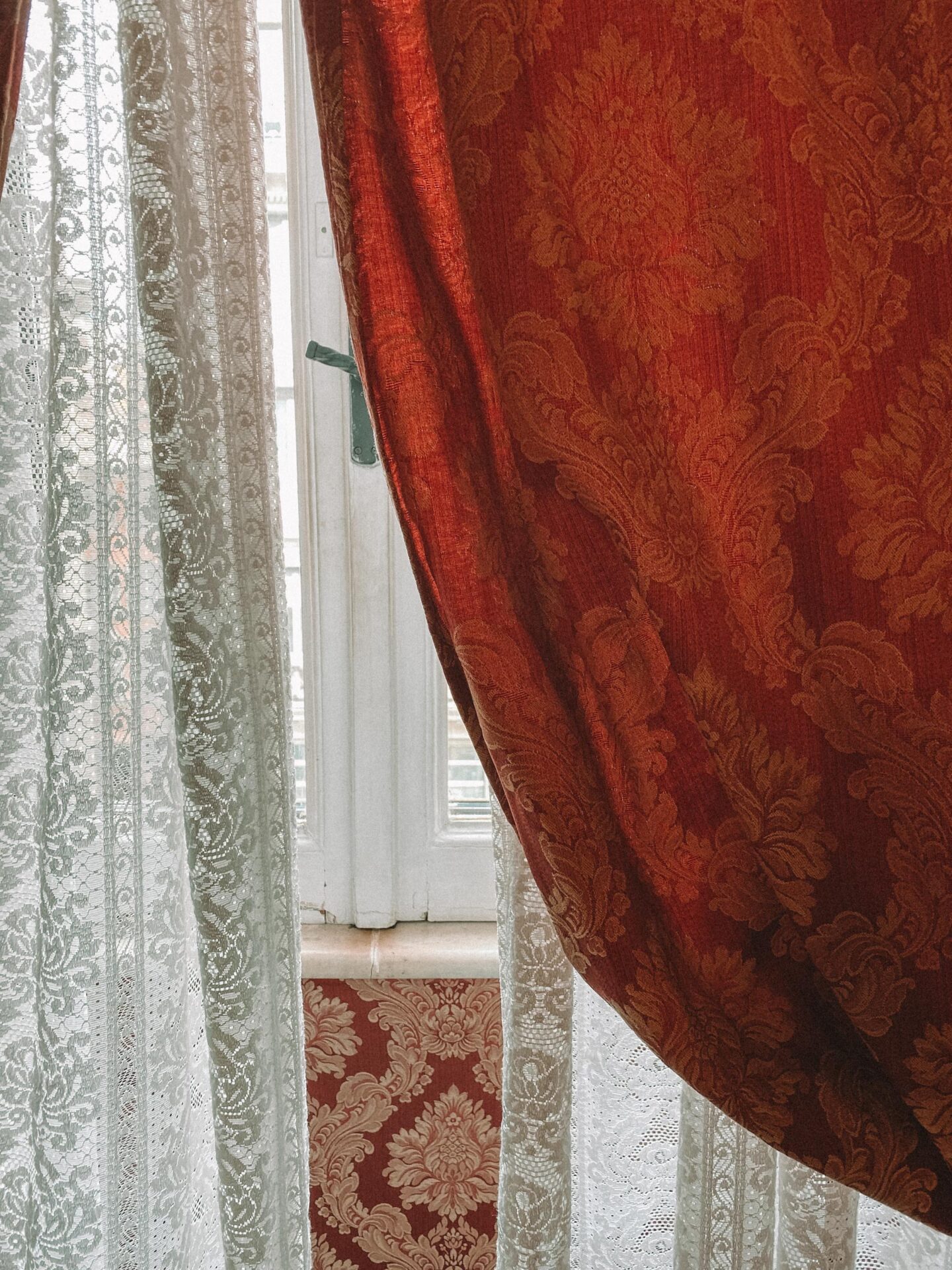 This place was a monastery once upon a time. The place has existed since the late 1500s (1594 to be exact), and it has a perfect location, right in the centre of the city. 165 yards away is the Barberini Metro station, and the Trevi Fountain is just around the corner, only a 5 minutes walk. Guests of the Residenza Antica Roma can explore Rome on foot and take advantage of the convenient public transportation. In addition to shopping, restaurants, and cafes, at walking distance you'd find the Spanish Steps. Guests have access to air conditioning, TV, minibar, and their own bathroom with a hairdryer. All areas of the property are equipped with free Wi-Fi.
If you are on a budget and you want something cheaper, the Vatican neighbourhood & Trastevere are some places you can consider.
For the Vatican area, "La Dimora Dei Sogni Al Vaticano" is a beautiful place to stay, just a short walk from the large plaza "Saint Peter's Square." There is also parking available. It is also close to the metro.

GETTING AROUND ROME
As explained before in this guide, most of Rome's top attractions are located in the city centre, so exploring the Eternal City on foot is the best way to soak up its atmosphere and see its beautiful sights up close. However, for those who wish to travel to Vatican City or other outlying areas, public transportation provided by ATAC is recommended. This includes buses, trams, metro lines, and trains. Walking is the most enjoyable way to experience the city, as Rome is like an open-air museum with surprises at every turn. To avoid delays and queues, it's best to purchase your public transportation tickets in advance or consider purchasing a city card for convenience.
MUST-SEE PLACES
This wouldn't be the ultimate guide for Rome, Italy if it didn't have a full list of places to visit, as well as suggestions for foods and drinks, right? Well, here we go…
Fontana di Trevi –
The Trevi Fountain is one of Rome's most popular tourist attractions, and it's easy to see why. Built in the 1700s, the fountain is an ornate masterpiece that's considered to be the largest fountain in Rome. The legend surrounding the fountain says that if you toss a coin into it, you'll return to Rome someday. So don't forget to make a wish and throw a coin into the water!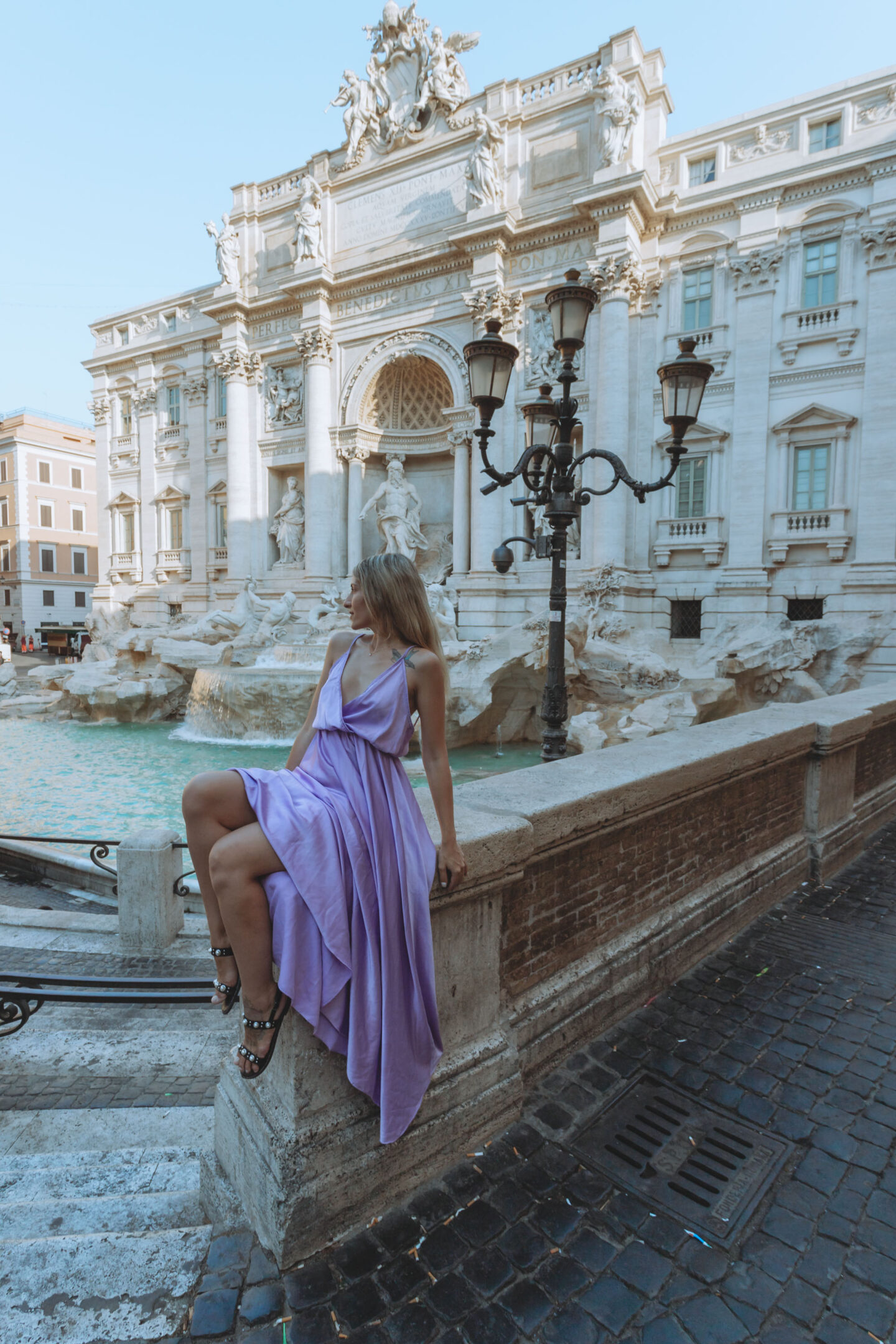 Pantheon –
The Pantheon is an ancient Roman temple that was built as a tribute to all of the gods. It's considered to be one of the best-preserved structures from the Roman era, and it's a must-see for any history buff. Today, the Pantheon is a Catholic church, and it's still one of Rome's most impressive architectural achievements. Admission is free, so, especially during peak season, be prepared to encounter long queues.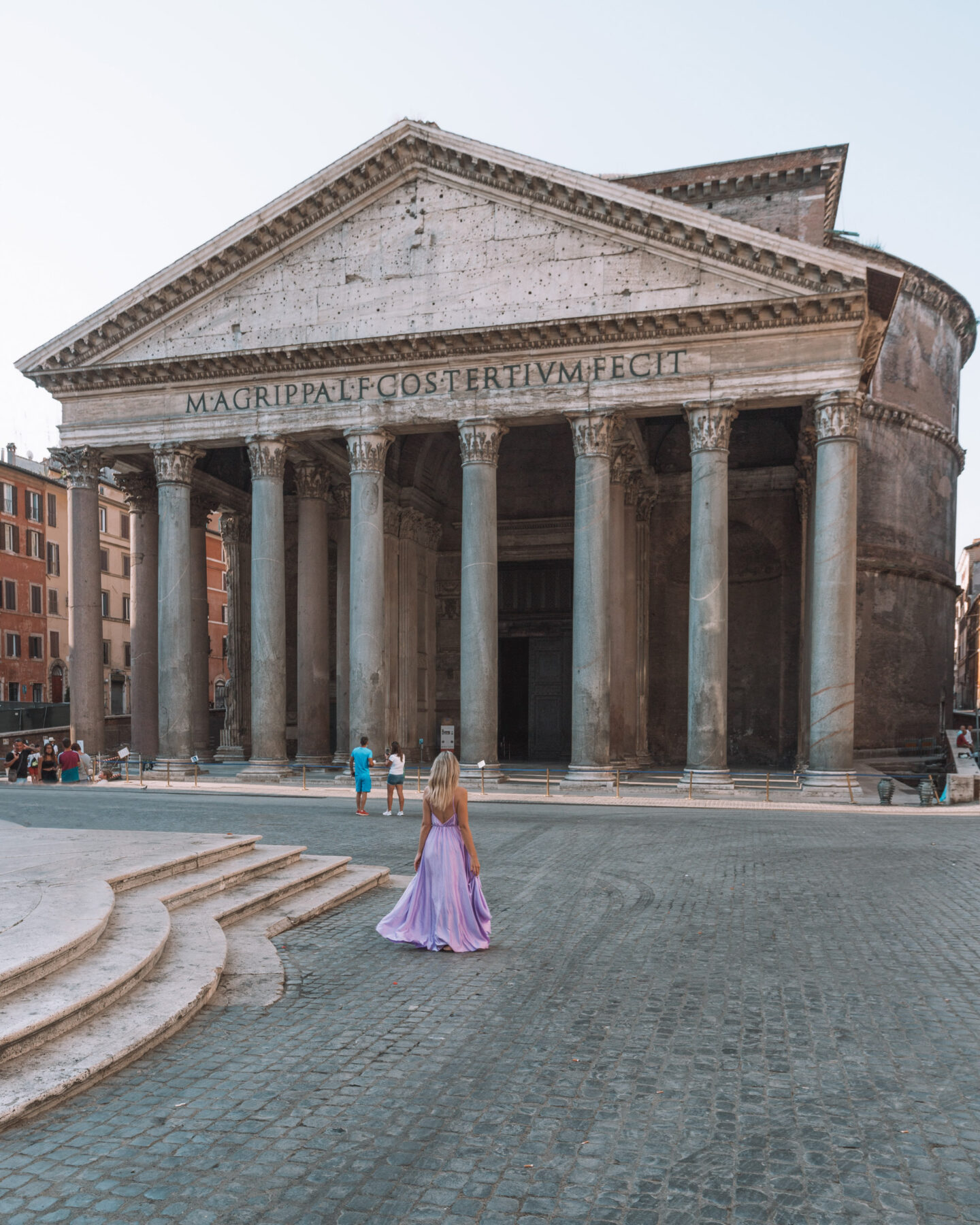 Colosseum & Roman Forum –
The Roman Forum was the heart of the ancient Roman Empire, and it's an incredible sight to behold. It's a sprawling complex of ruins that includes temples, government buildings, and public spaces. And just a short walk away from the Forum is the Colosseum, the world's largest amphitheatre. To avoid the crowds and long lines, it's recommended that you purchase skip-the-line tickets in advance.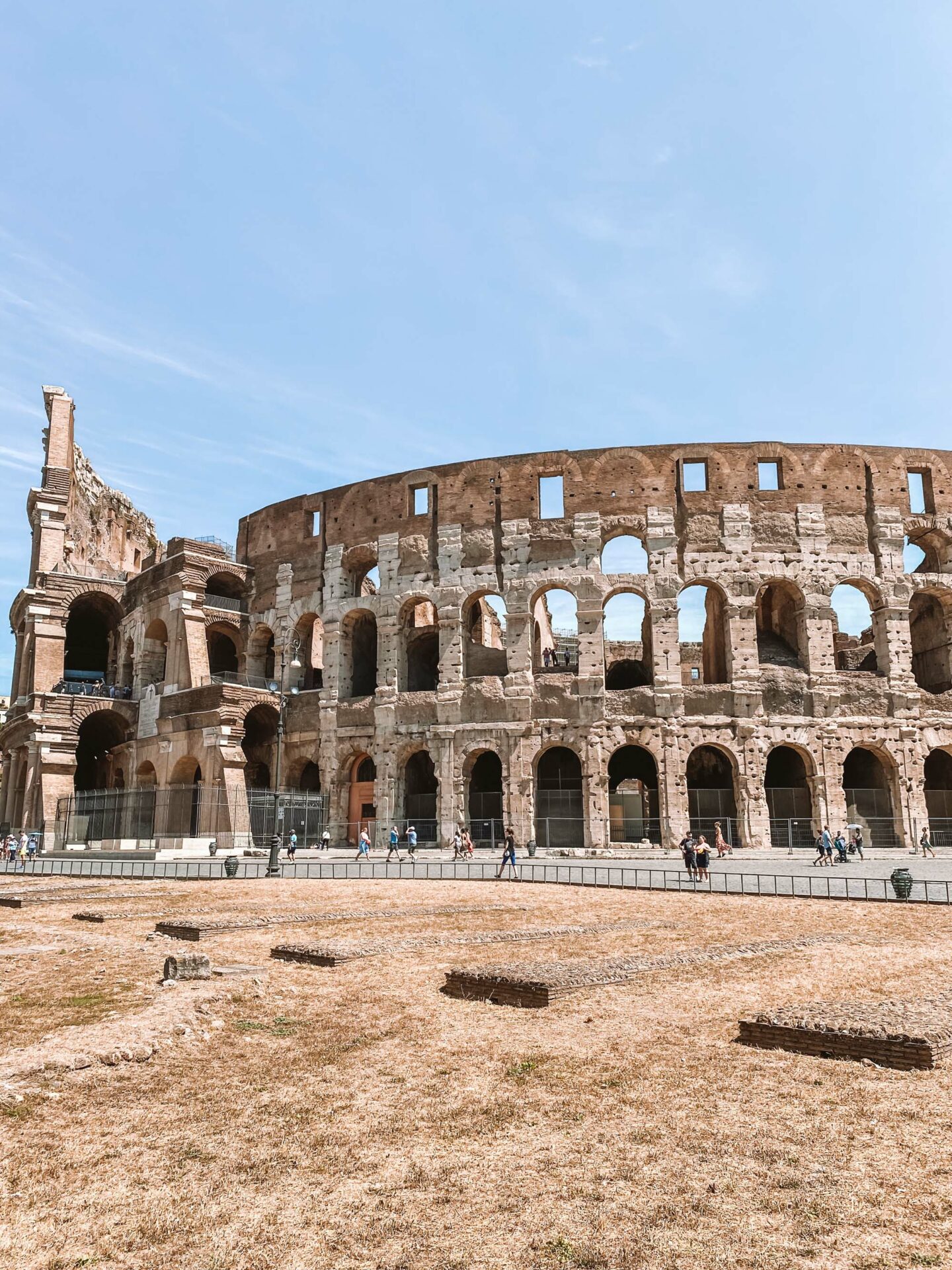 Vatican Museums & St Peter's Basilica –
Vatican City is a separate sovereign city-state within Rome, and it's full of incredible museums and art galleries. The Vatican Museums contain an immense collection of art and artifacts from throughout history, including some of the most famous works of the Renaissance. St. Peter's Basilica is a magnificent example of Renaissance architecture, and it's considered to be one of Italy's most essential churches. Due to the heavy tourist rush, it's recommended that you purchase skip-the-line tickets in advance.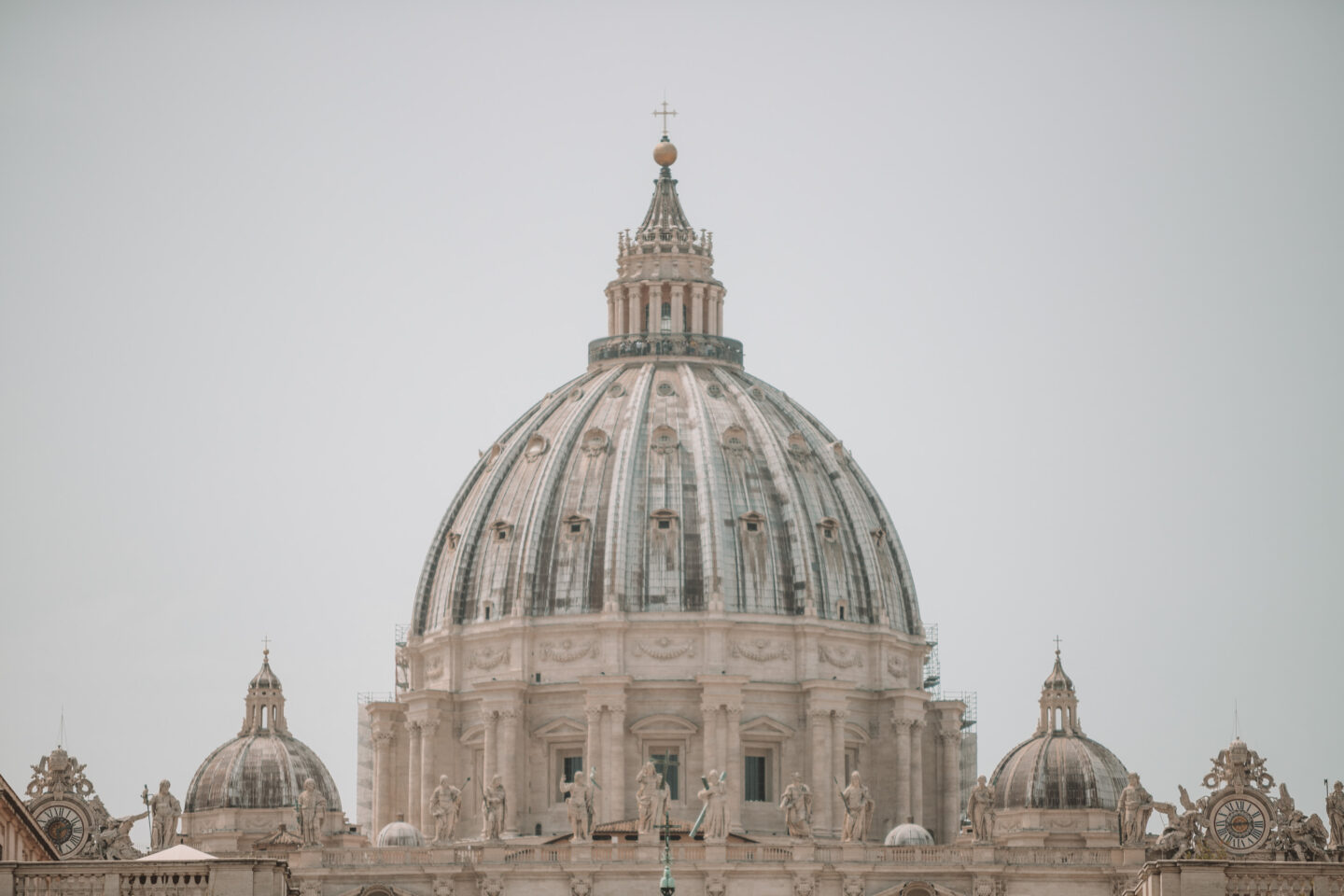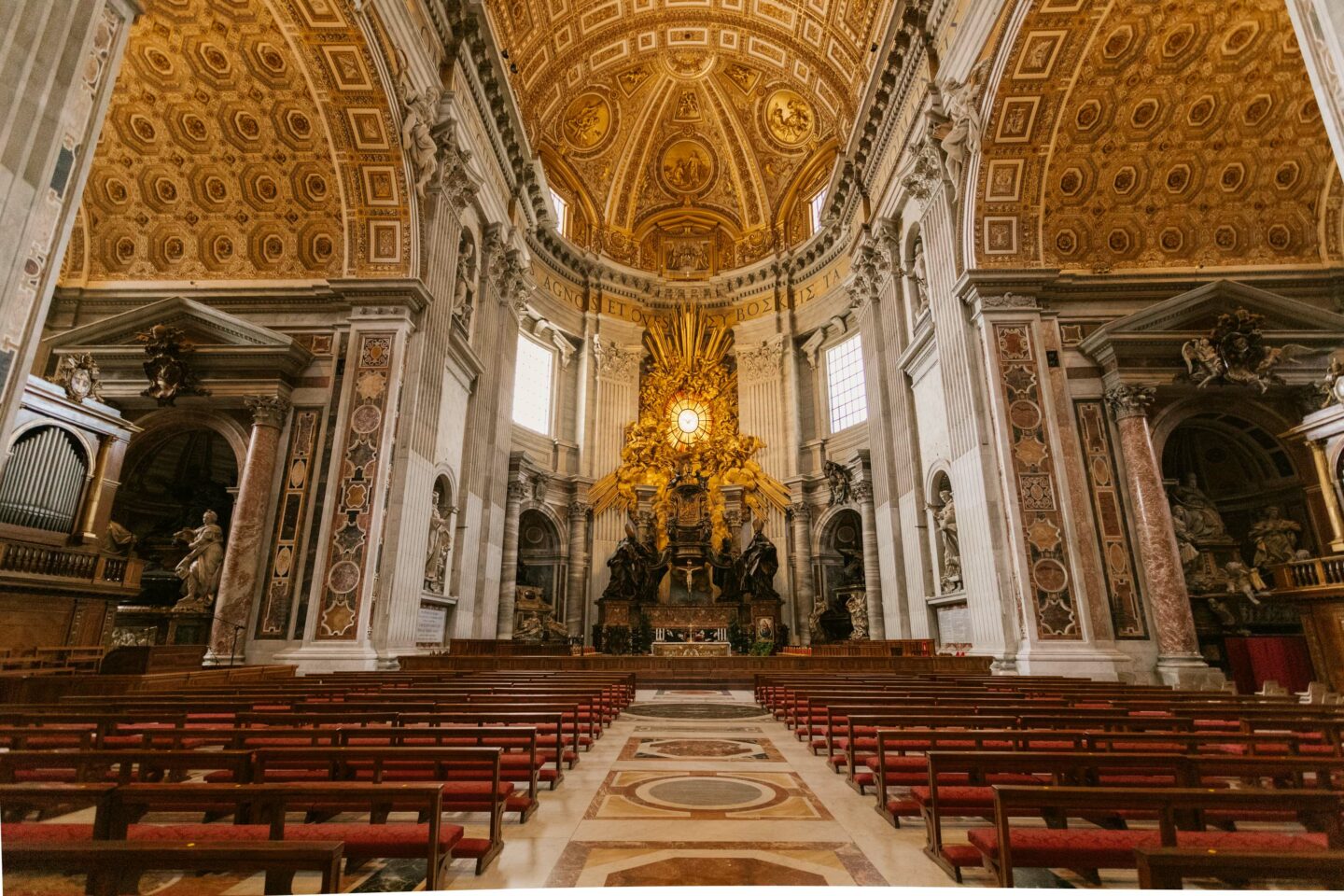 Castel Sant' Angelo –
Castel Sant' Angelo is a fortress located on the right bank of the Tiber River. It was originally built as a mausoleum for Emperor Hadrian, but it was later used as a fortress and a castle. Today, it's a museum that houses a collection of medieval weapons and armor, as well as some stunning frescoes.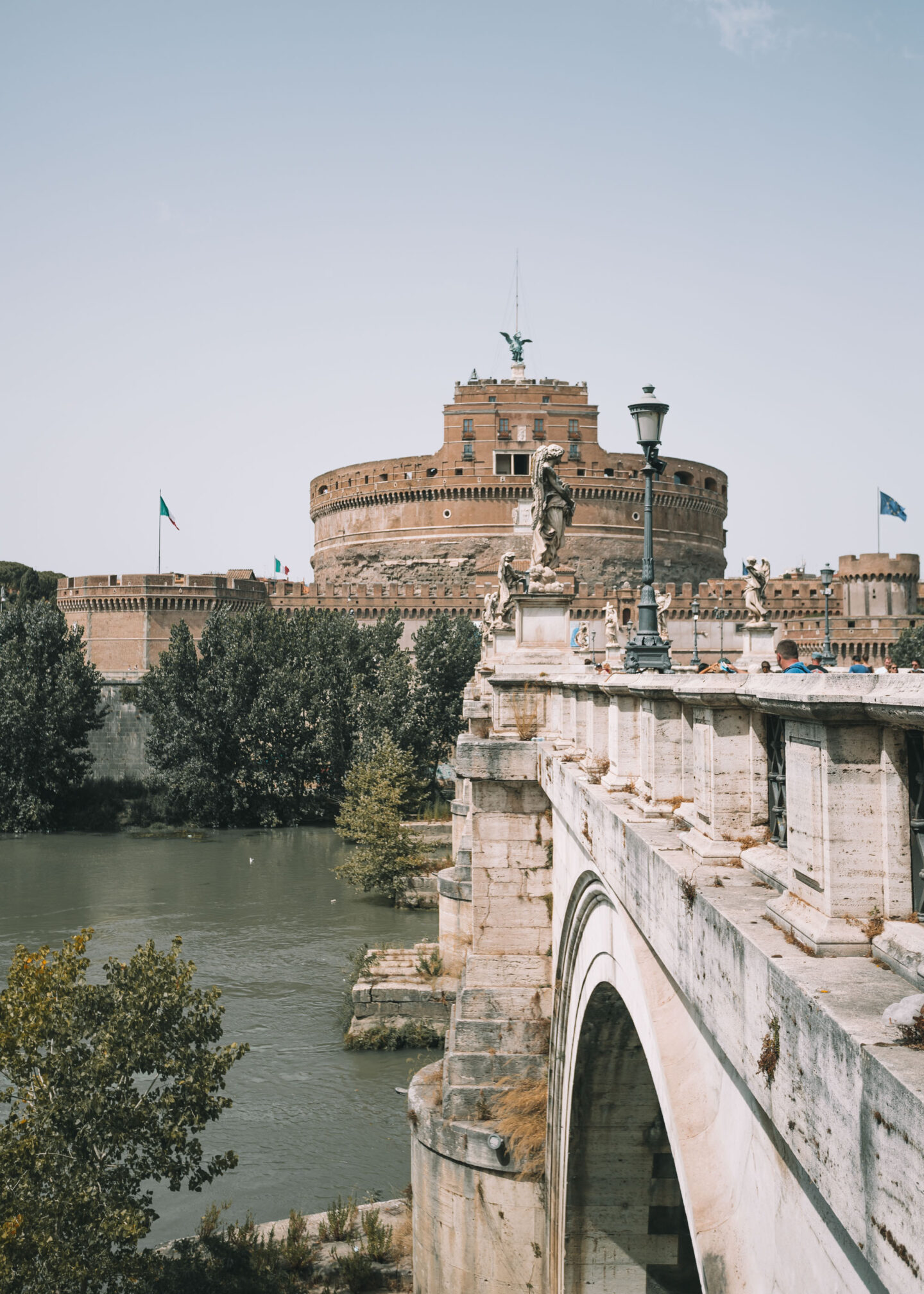 Galleria Doria Pamphilj –
Located in the heart of Rome, Galleria Doria Pamphilj is a stunning art museum featuring a vast collection of masterpieces from the Renaissance and Baroque periods. One of its most impressive rooms is the Hall of Mirrors, which is often compared to the Hall of Mirrors at Versailles due to its stunning mirrored walls and intricate ceiling frescoes. The museum is a must-visit for art lovers and anyone looking to admire the beauty and history of Rome's cultural heritage.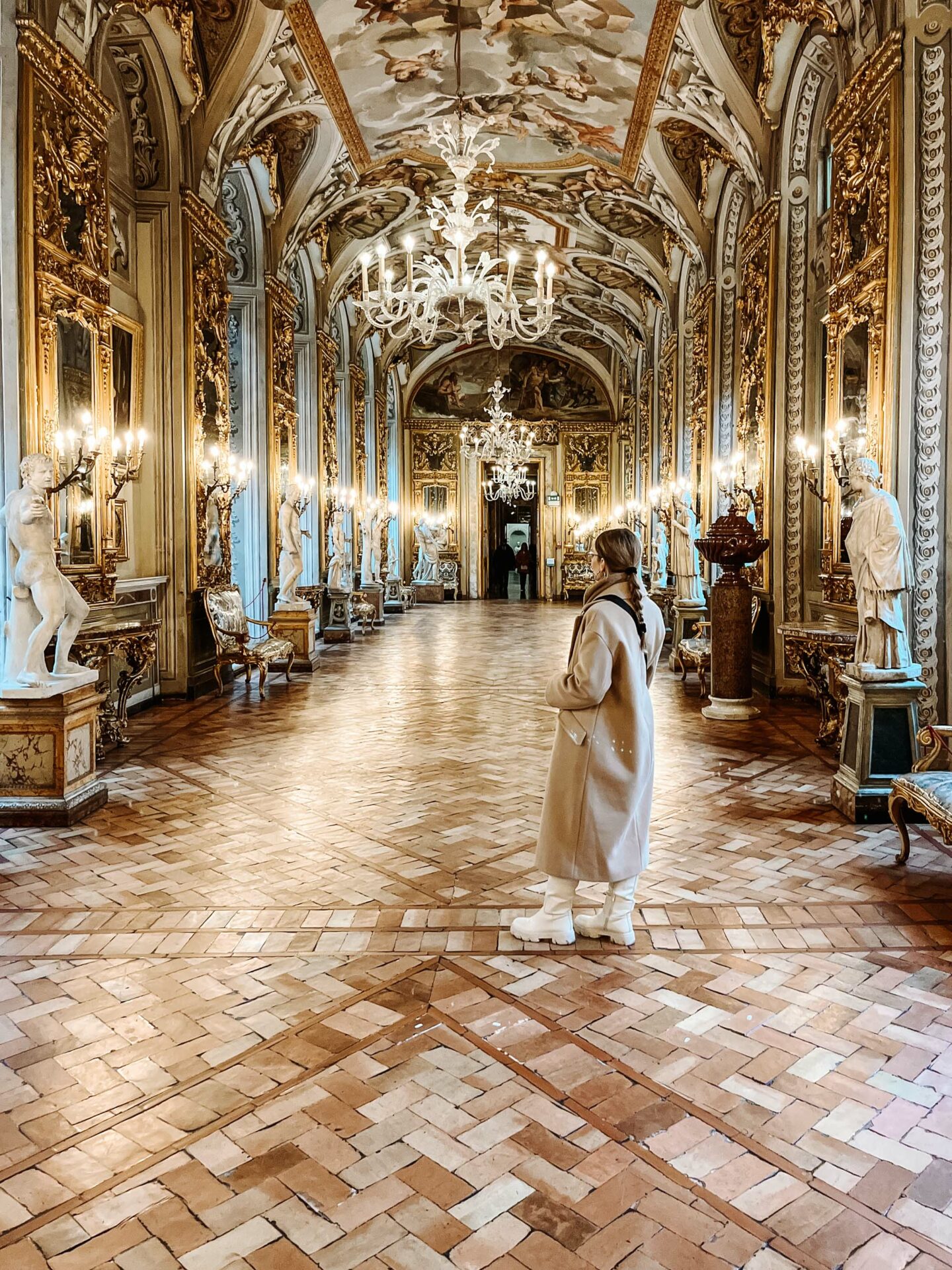 Villa Borghese –
Villa Borghese is a beautiful park in the heart of Rome, filled with gardens, fountains, and sculptures, as well as museums and galleries. The Borghese Gallery is a highlight of the park, with a stunning collection of art by famous artists like Bernini, Caravaggio, and Raphael. The park is a perfect place to relax, enjoy the views, and even take part in outdoor activities like cycling and rowing.The park also houses the Temple of Aesculapius, an ancient Roman temple dedicated to the Roman god of medicine, located on an island in the park's artificial lake.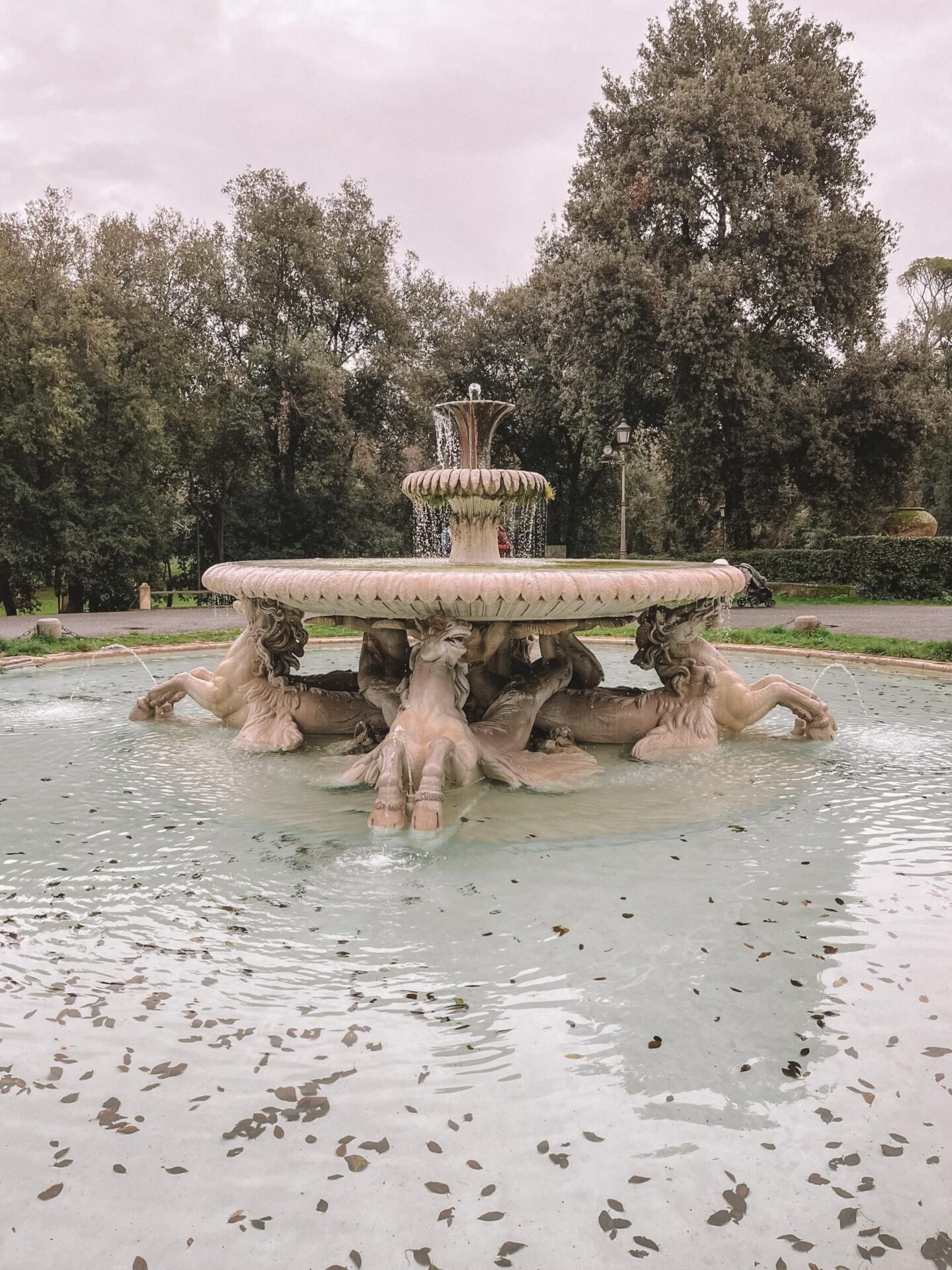 Terrazza del Pincio –
As you exit Villa Borghese and head towards Piazza del Popolo, make sure to take a moment and stop by Terrazza del Pincio. This stunning viewpoint offers a panoramic view of Rome's skyline that is simply breathtaking. From the historic monuments to the ancient ruins, the view from Terrazza del Pincio is a feast for the eyes. Don't miss the chance to capture some memorable photos while admiring the beauty of the Eternal City from this spectacular vantage point.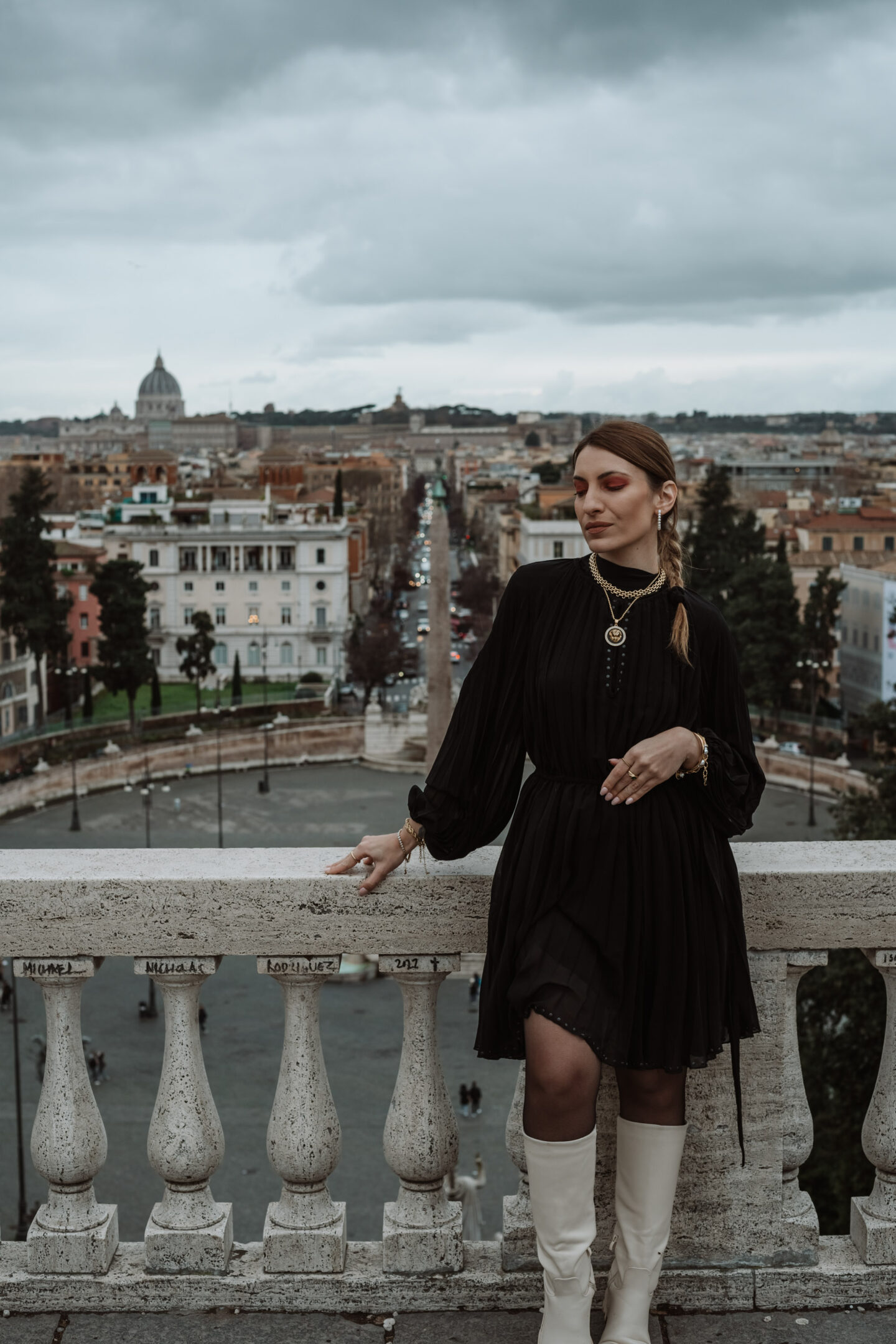 Piazza Venezia & Monumento Vittorio Emanuele II –
The Monumento Vittorio Emanuele II, also known as "Altare della Patria", is a massive white marble monument, dedicated to the first king of a unified Italy, Victor Emmanuel II. It is considered one of the most controversial and criticized monuments in Rome due to its size and architectural style, which contrasts with the surrounding historical buildings.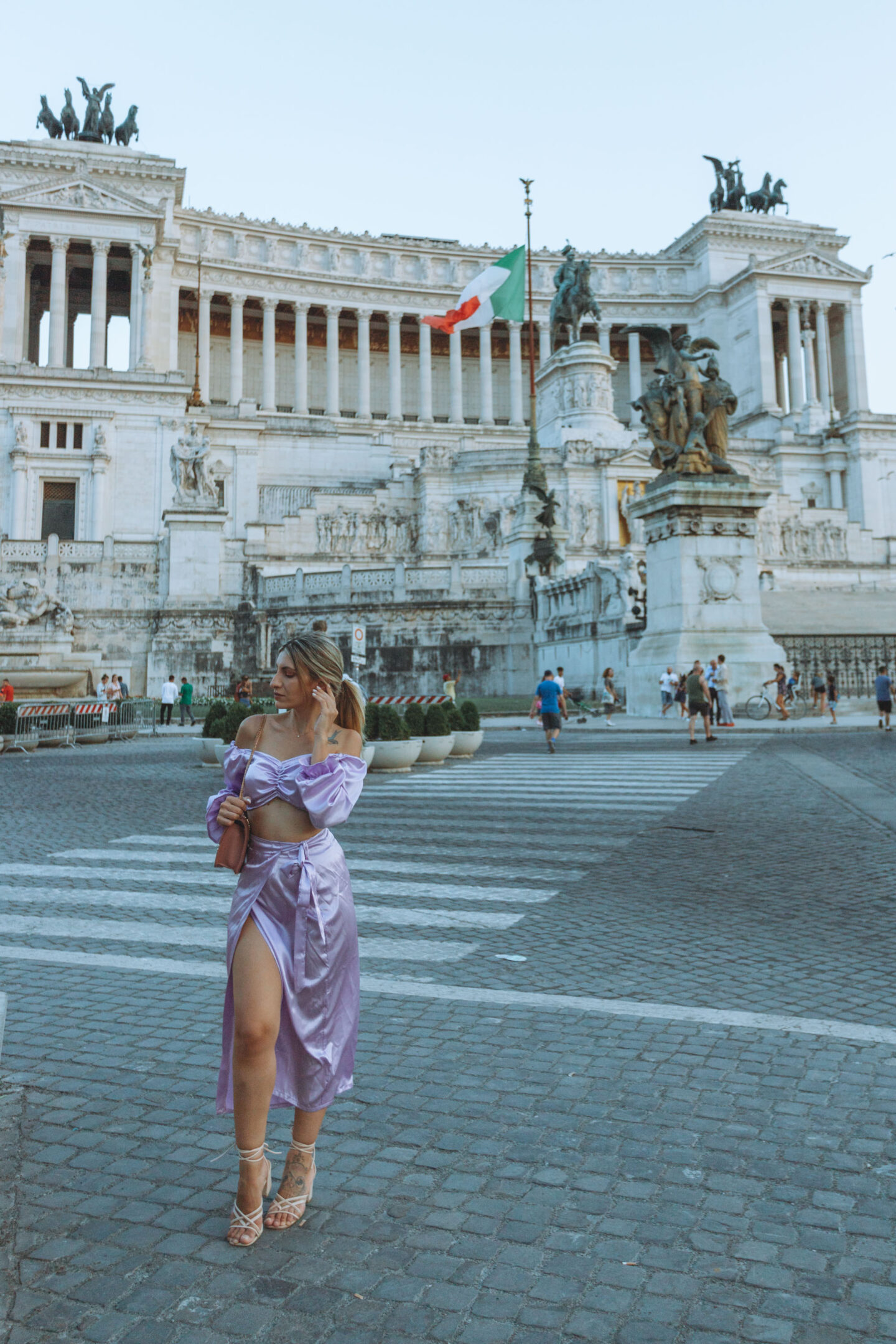 Piazza Navona –
Piazza Navona is a beautiful 17th-century square that's known for its elegant architecture and stunning fountains. The square is lined with cafes and restaurants, and it's a popular spot for people-watching and soaking up the lively atmosphere.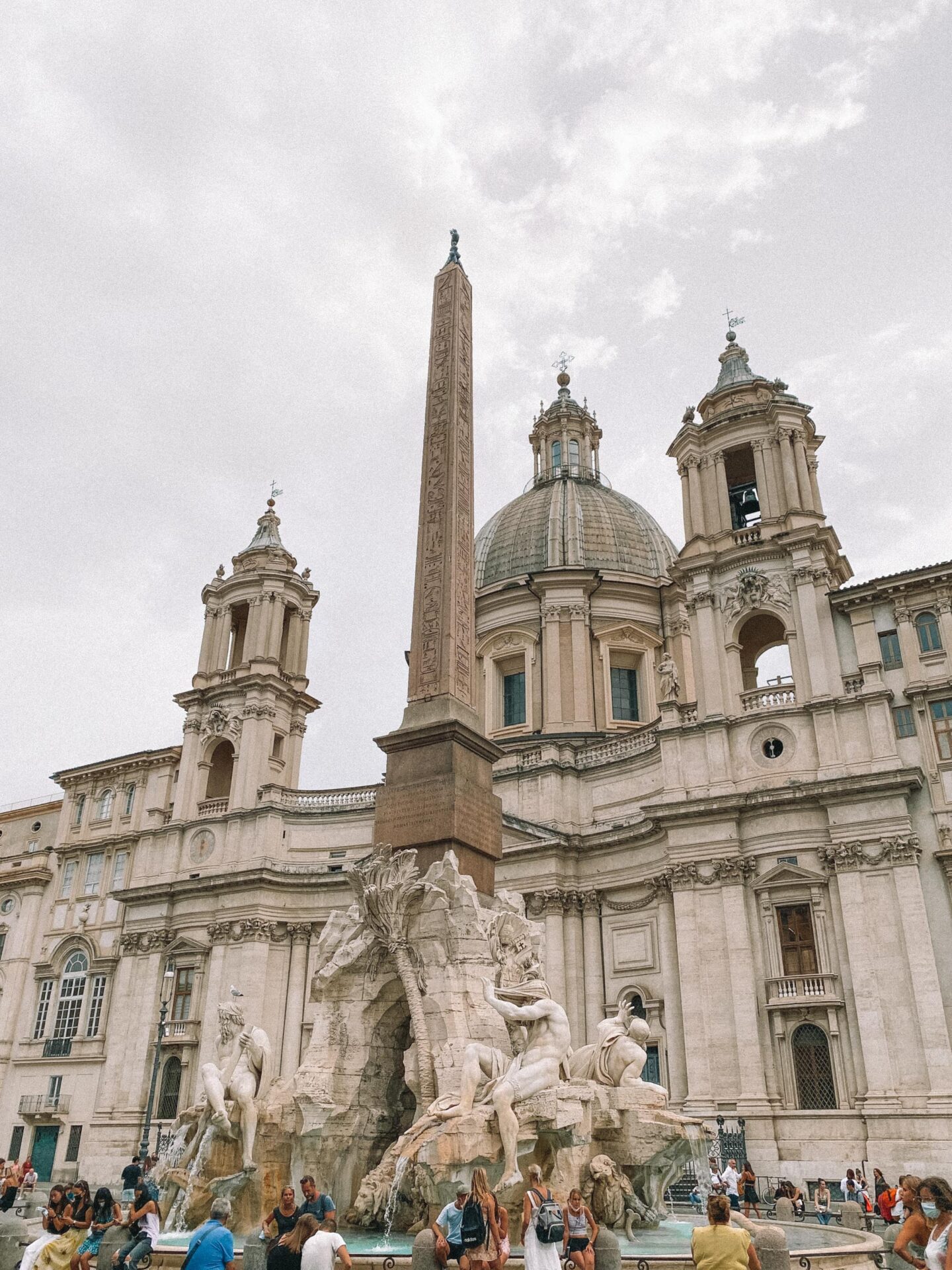 Piazza di Spagna –
Piazza di Spagna is one of Rome's busiest squares, and it's located at the foot of the Spanish Steps. The square is home to the iconic Barcaccia Fountain and is surrounded by designer boutiques and luxury shops. It's a popular spot for tourists and locals alike, and it's a great place to take in the energy of the city.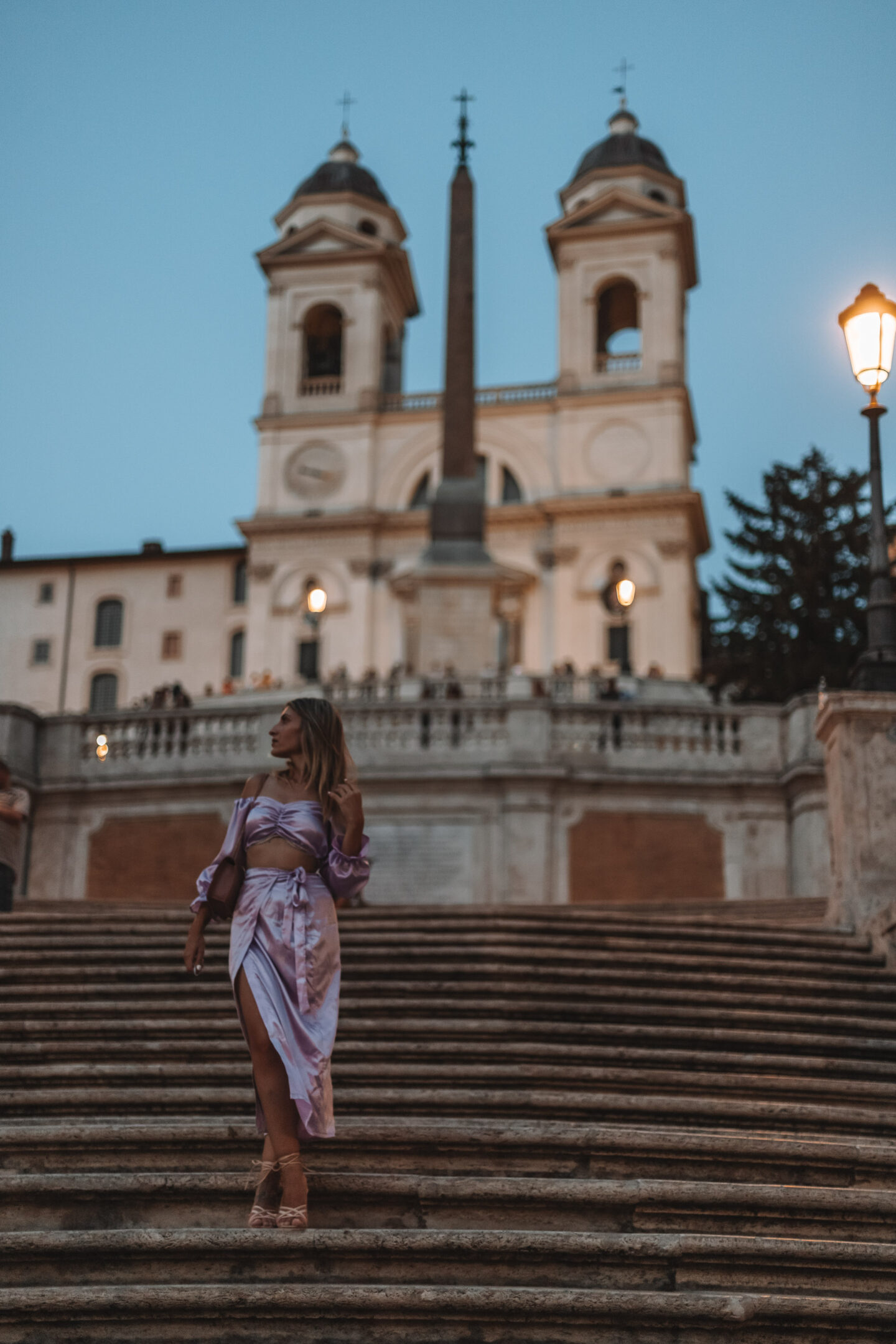 Trastevere –
Trastevere is a picturesque neighborhood located on the west bank of the Tiber River in Rome, Italy. Its narrow, winding streets are lined with colorful buildings and bustling with local shops, restaurants, and cafes. Trastevere has a rich history and is home to many important landmarks, including the Basilica of Santa Maria in Trastevere, one of the oldest churches in Rome. It is also known for its vibrant nightlife and is a popular destination for tourists and locals alike. With its lively atmosphere, stunning architecture, and authentic Italian charm, Trastevere is a must-visit destination for anyone traveling to Rome.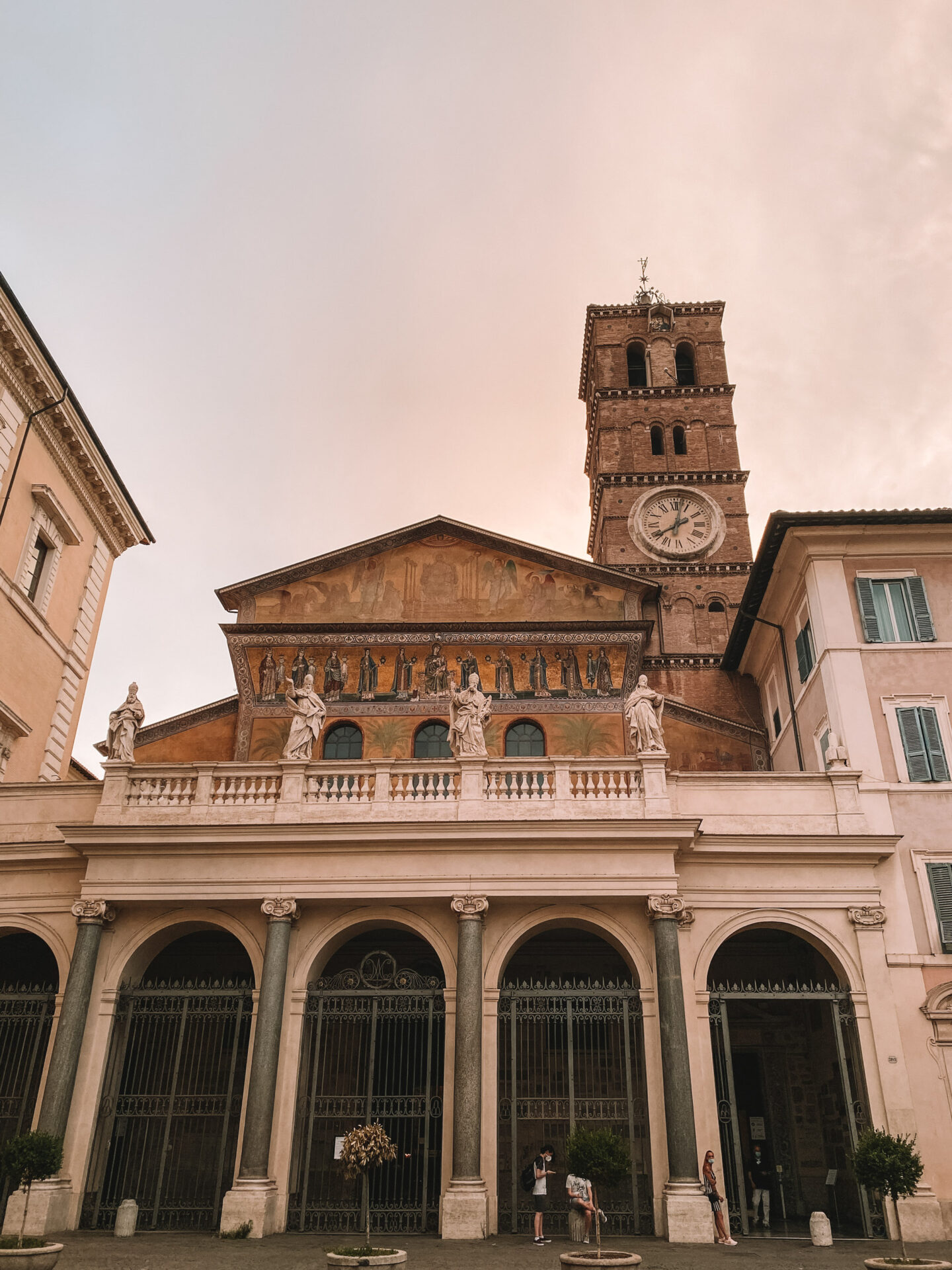 FOOD
If you're planning a trip to Rome, you'll be spoiled for choice when it comes to dining options. From vintage trattorias to affordable pizzerias, there's something for everyone. In this guide, I'll highlight some of the best places to eat in Rome, along with some additional information to inspire you to visit.
Antica Trattoria da Pietro Al Pantheon dal 1842 –
This charming trattoria is a hidden gem that you won't want to miss. Tucked away between two standard tourist traps, this restaurant offers a beautiful vintage setting with a warm and intimate atmosphere. The candlelit space sets the tone for an unforgettable dining experience. And the food? Delicious! The cuisine is excellent and reasonably priced, given the location. Make sure to add this trattoria to your must-visit list!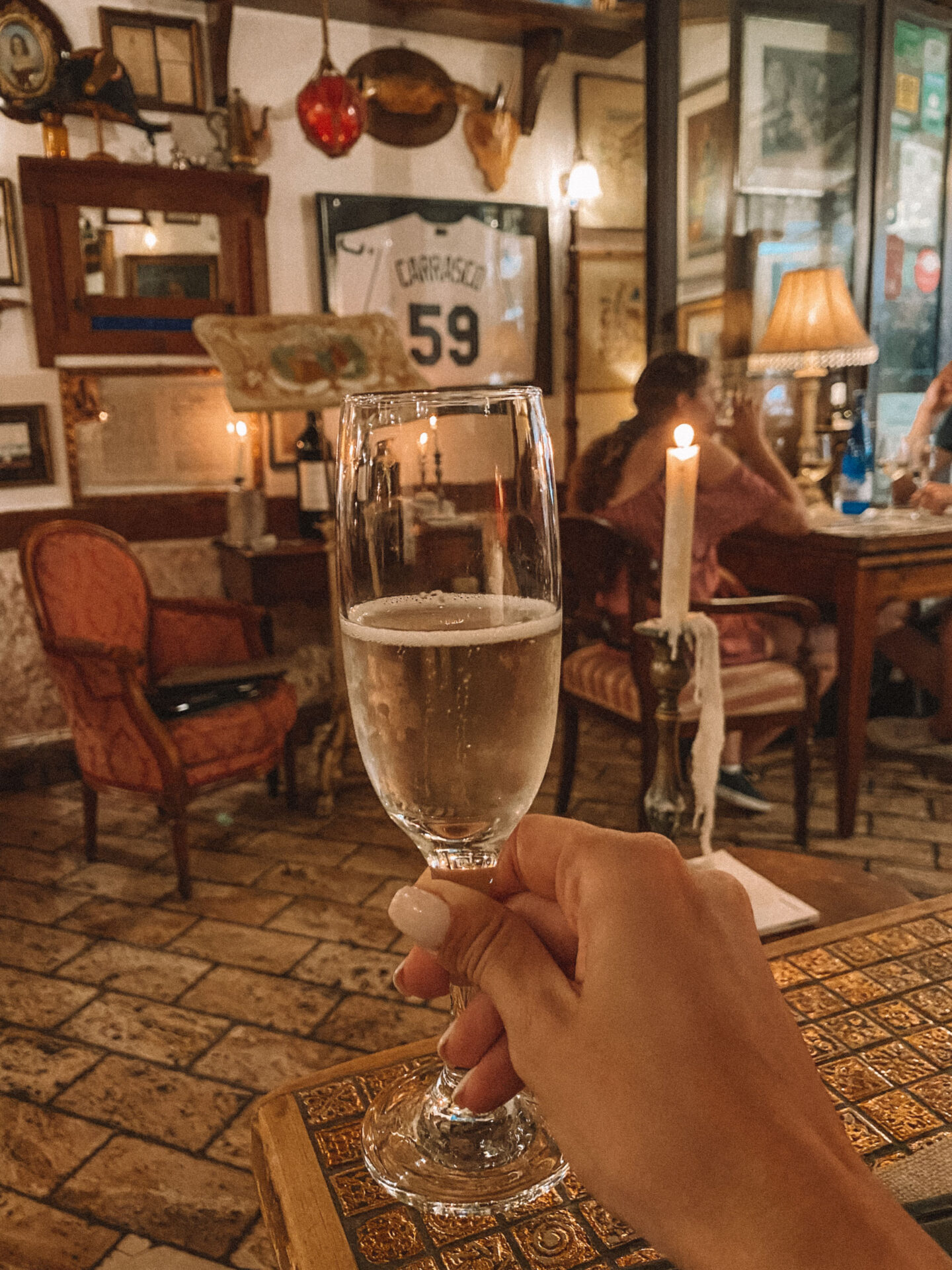 Da Pietro Al Pantheon – Via dei Pastini, 125, 00186 Roma RM, Italy
All' Antico Vinaio –
All' Antico Vinaio is one of the most popular panini shops in Italy. With a simple yet mouth-watering menu, this sandwich haven has something for everyone. The freshly baked bread, combined with the finest cured meats and cheeses, creates a flavor explosion that is hard to resist.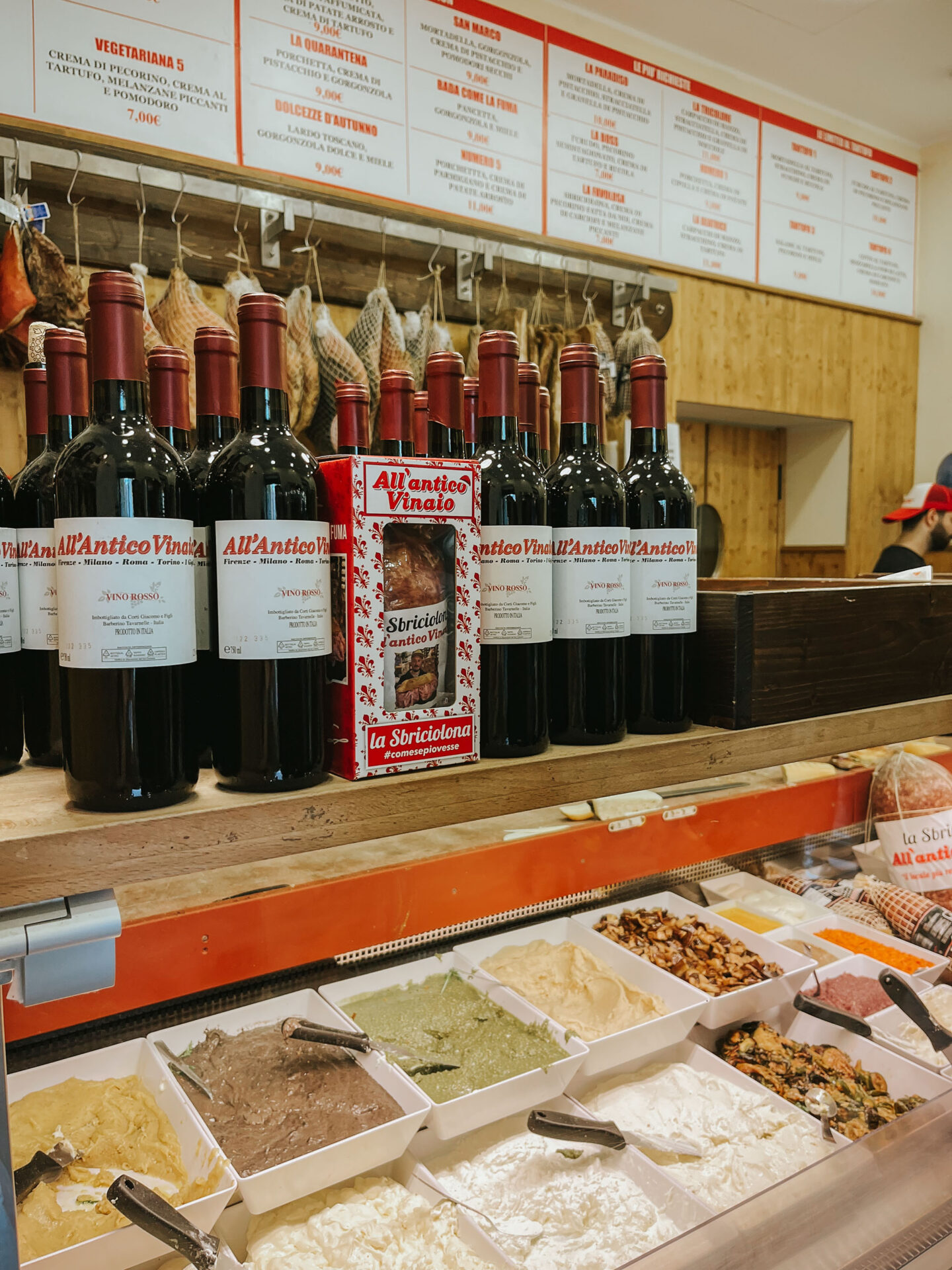 All'Antico Vinaio – Piazza della Maddalena, 3, 00186 Roma RM, Italy
Mami Pizza –
Grabbing a slice of pizza is a must when in Rome, and Mami Pizza is the perfect spot for a quick bite. Located in the beautiful Piazza Navona, this pizzeria offers delicious pizza that you can enjoy on the go. Take a stroll around the square while you indulge in the crispy and cheesy goodness of the pizza.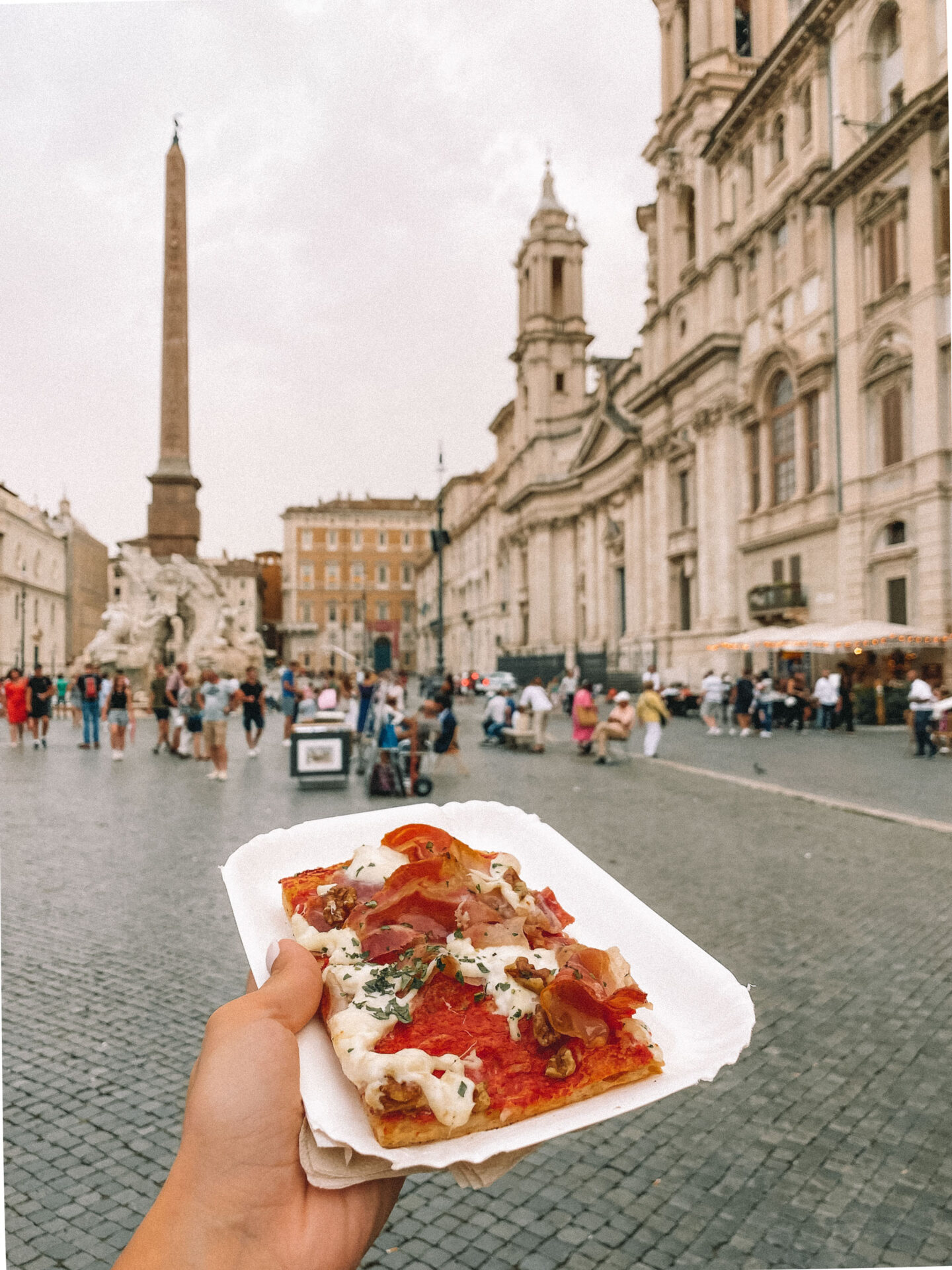 Mami Pizza – Via della Pace 27/A, 00186 Roma RM, Italy
Mastrociccia –
If you're looking for a reasonably priced restaurant on a charming street, look no further than Mastrociccia. This place serves up excellent food in a relaxed and welcoming atmosphere. The menu features classic Italian dishes made with fresh, locally sourced ingredients. The staff is friendly and knowledgeable, and the prices are very reasonable.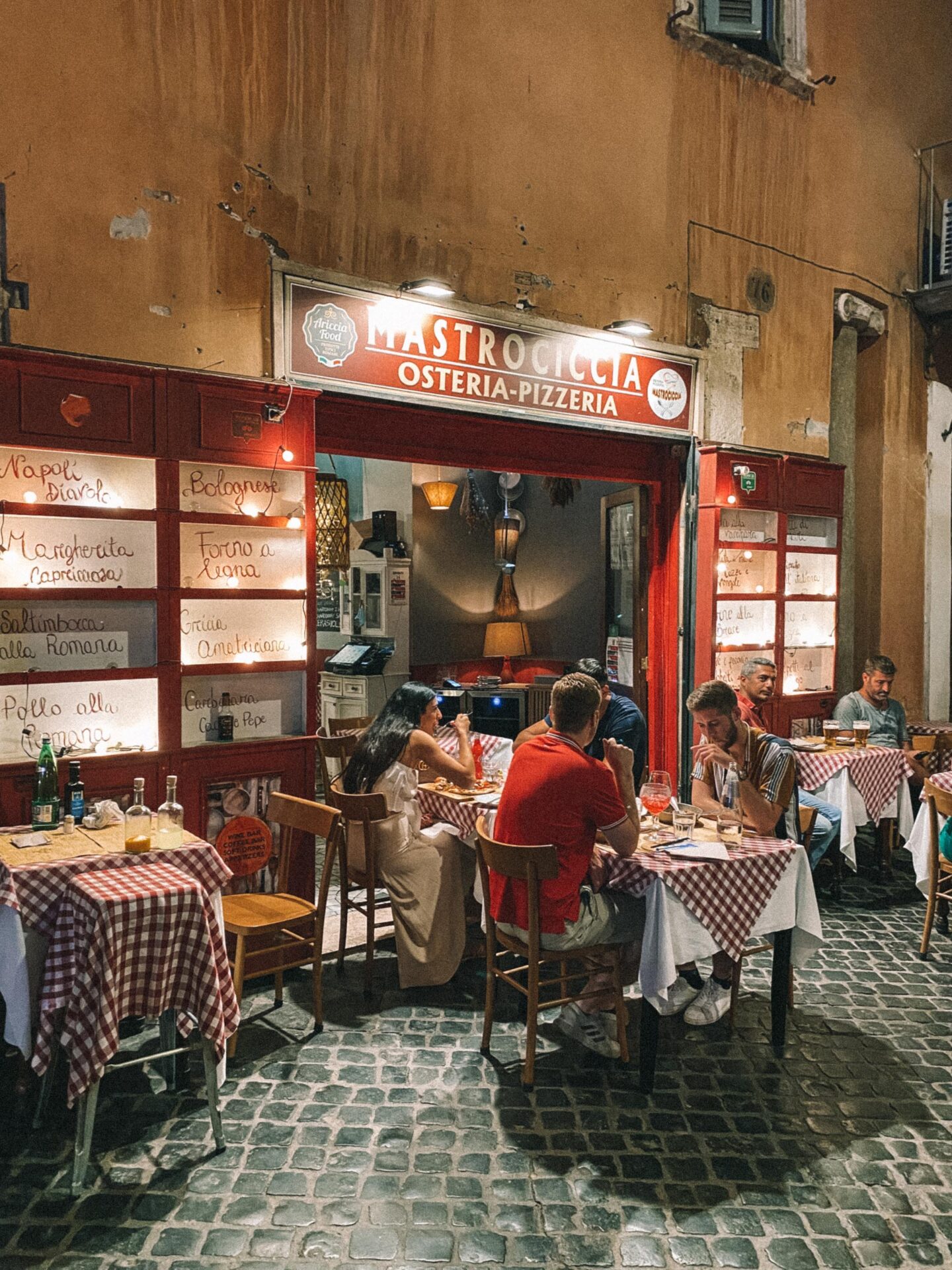 Mastrociccia – Osteria Bistrot – Via del Governo Vecchio, 76, 00186 Roma RM, Italy
Agrodolce Roma –
If you're looking for a restaurant in Rome that is conveniently located near the iconic Fontana di Trevi and serves mouth-watering pasta, look no further than Agrodolce Roma. This cozy trattoria is just a stone's throw away from the famous fountain and offers a wide variety of pasta dishes that are sure to satisfy any cravings.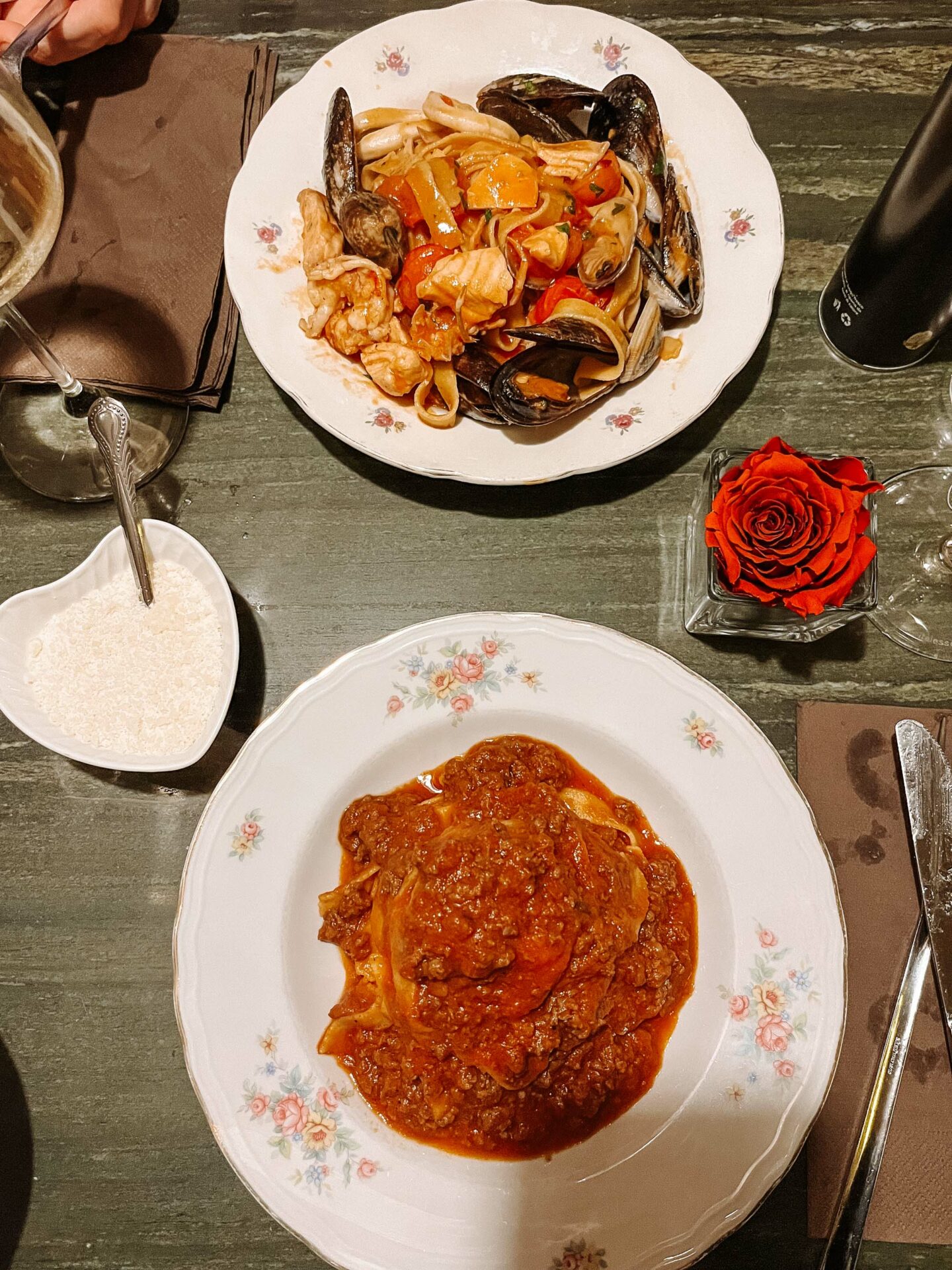 Ristorante Agrodolce Roma – Via dei Crociferi, 25, 00187 Roma RM, Italy
Tonnarello –
The famous Tonnarello restaurant is a fantastic option for traditional Roman cuisine. Located in the heart of Trastevere, one of Rome's most cultural neighborhoods, offers affordable dishes that are both delicious and authentic. The pasta is homemade, and the sauces are rich and flavorful. The restaurant has a cozy atmosphere and is always bustling with locals and tourists alike.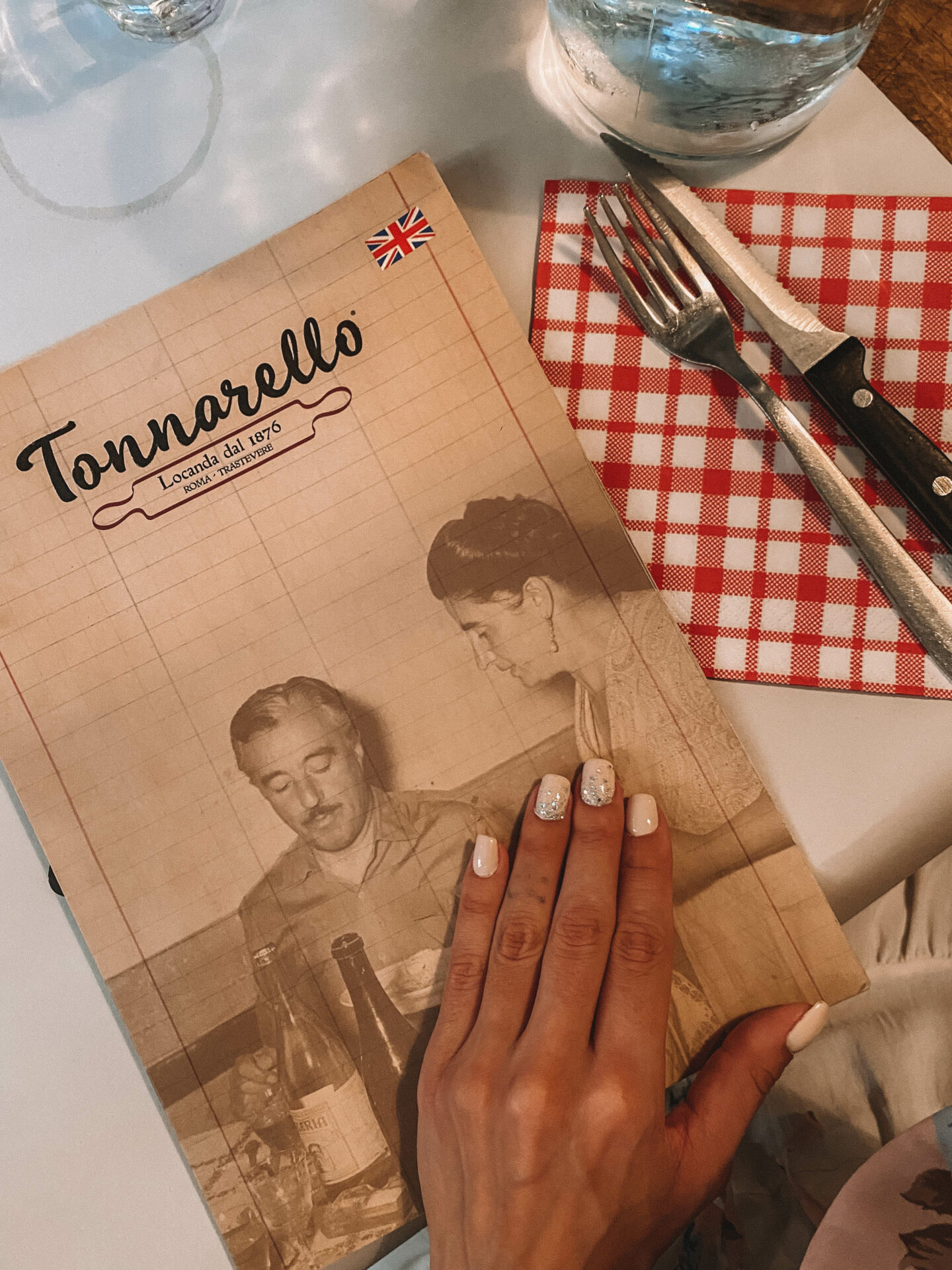 Rome is a city that is full of delicious cuisine, and these restaurants are just a few of the many amazing places to eat in the city. Don't hesitate to explore and try something new, and you're sure to have a fantastic dining experience!
Tonnarello – Via della Paglia, 1/2/3, 00153 Roma RM, Italy
ROME AT NIGHT
Rome's beauty is enchanting, and it becomes even more magical at night. When the sun sets, the city lights up, and it's like stepping into a different world. Walking through Rome's narrow alleyways at night is an unforgettable experience that you won't want to miss.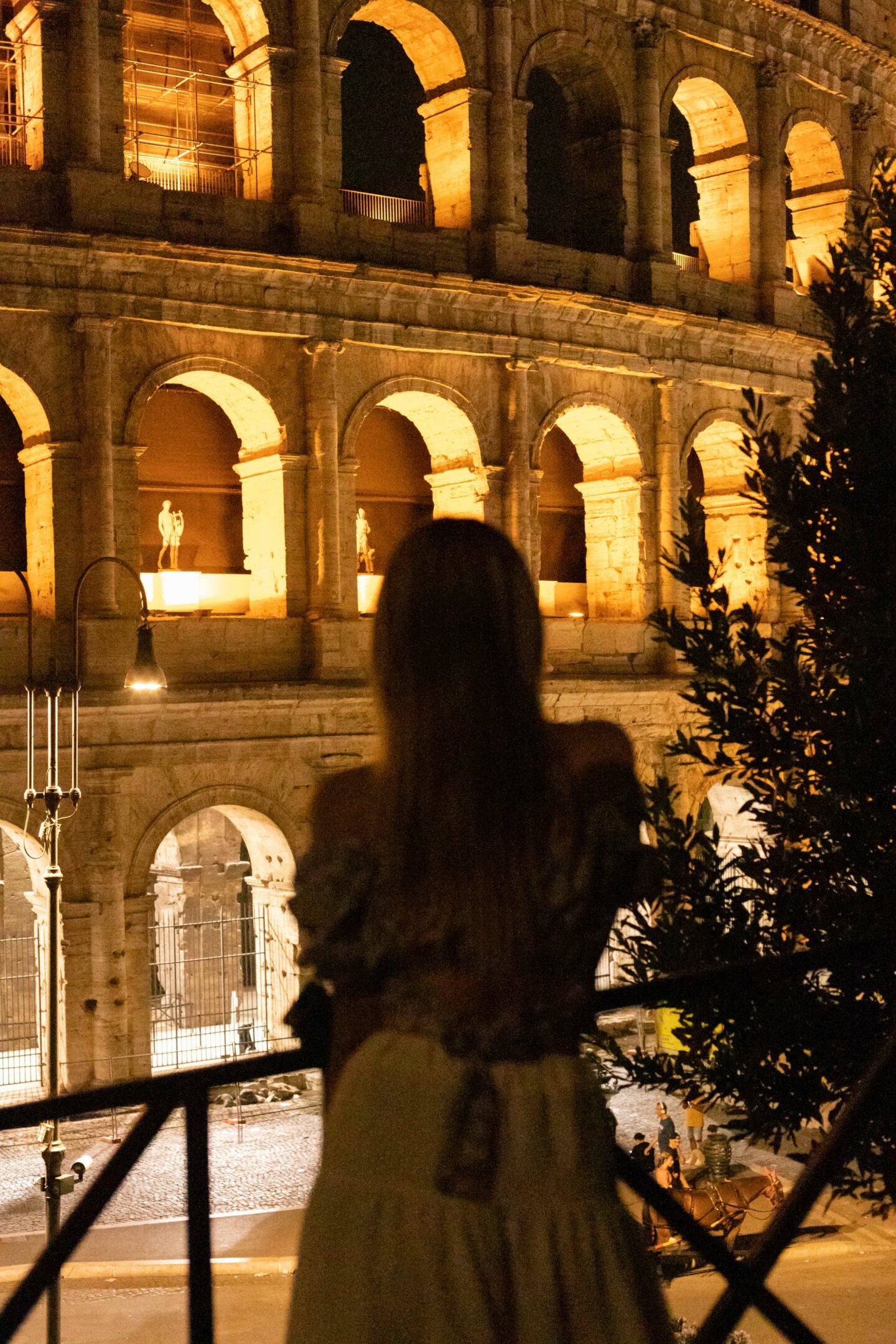 After a delicious supper at one of Rome's many fantastic restaurants, take a leisurely stroll through the city at night. As you wander the charming streets, you'll see Rome's iconic buildings lit up in all their majestic beauty, such as the breathtaking Pantheon and the imposing Castel Sant' Angelo. And what better way to end your night than at the Colosseum, one of the most iconic landmarks in the world, glowing against the night sky? The Colosseum is truly stunning when illuminated at night, and it's an experience that you'll remember for a lifetime. So, make sure to add a nighttime walk through Rome to your itinerary, and be prepared to be dazzled by the city's charm and beauty.
DRINKS
"The Terrazza Borromini" is an extraordinary spot to experience Rome from a bird's-eye view. With a rooftop restaurant on the 4th floor and a rooftop bar on the 6th floor, you can enjoy an unforgettable panoramic view of the city's iconic Piazza Navona and its charming rooftops. Make sure to book your table in advance, as it's a popular spot for locals and tourists alike.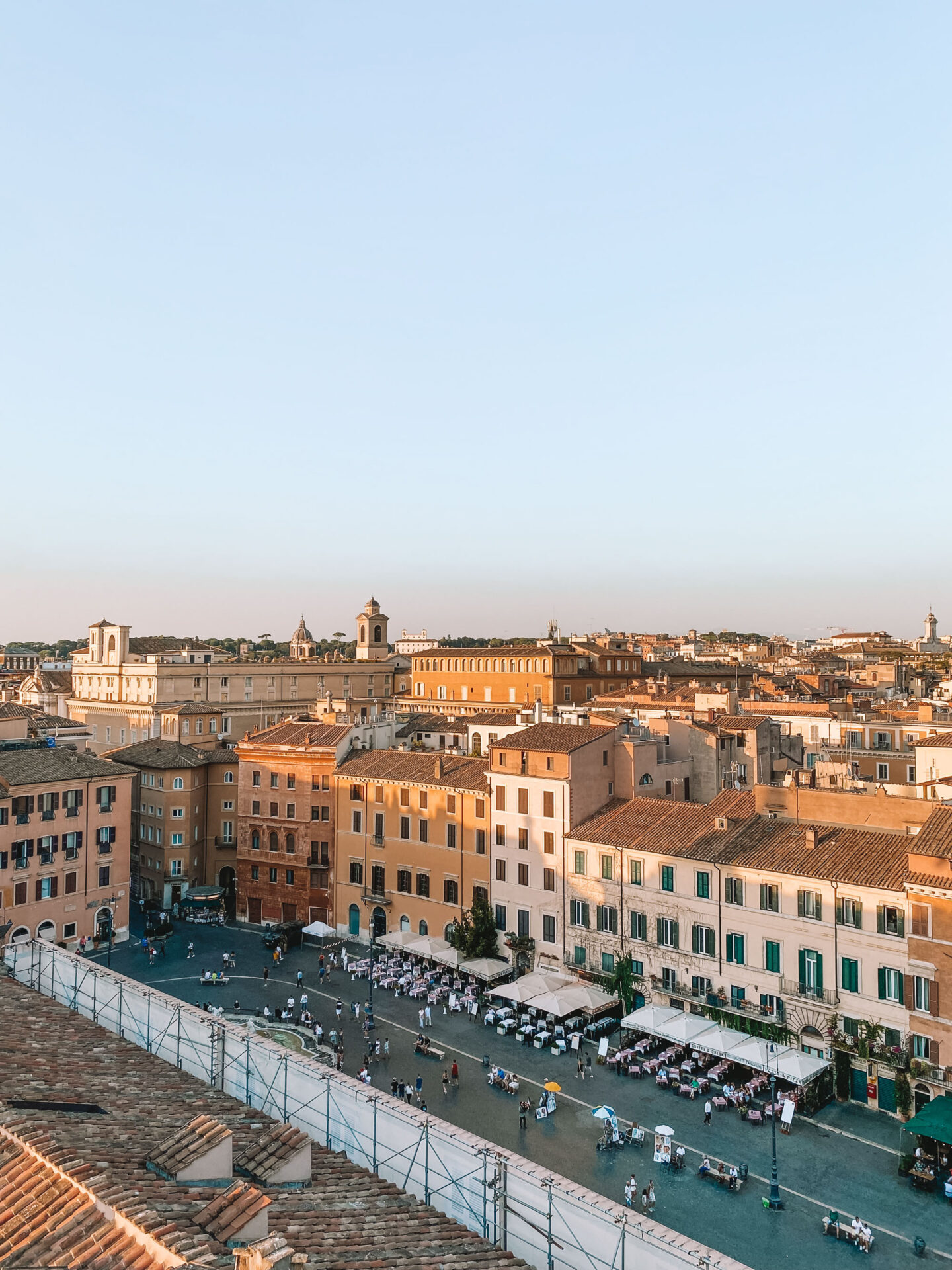 For a breathtaking view of the sunset, head to "Oro Bistrot," the rooftop bar of NH Collection Roma Fori Imperiali. This stunning location offers a unique and picturesque setting that will take your breath away. Sip on your favourite drink while watching the sun dip below the horizon and the city light up with a magical glow. The atmosphere is relaxed, and the staff is friendly, making it a perfect place to unwind after a busy day of sightseeing. Don't forget to bring your camera, as the view is one you'll want to capture forever.
GELATO & COFFEE
GRAN CAFFÈ LA CAFFETTIERA –
Gran Caffè La Caffettiera, one of the best cafes in Rome, located in the beautiful Piazza di Pietra, is known for its delectable selection of sweets and pastries that will leave you wanting more.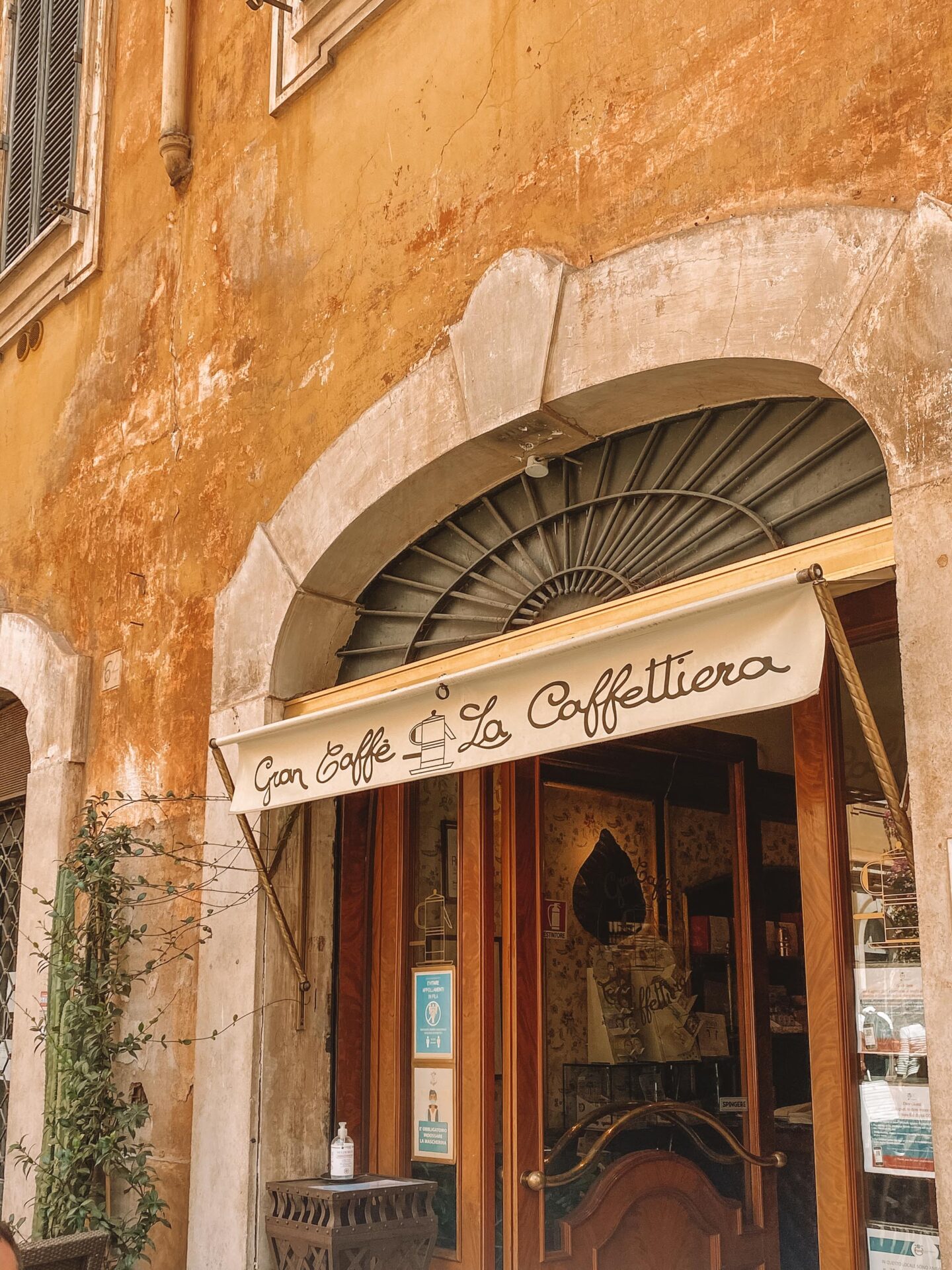 Gran Caffè La Caffettiera – P.za di Pietra, 65, 00186 Roma RM, Italy
When it comes to gelato in Rome, one name stands out above the rest: Giolitti. This historic gelateria has been serving up delicious ice cream since 1900 and is a must-visit spot for anyone with a sweet tooth. With a vast variety of flavours, Giolitti's gelato is sure to satisfy your cravings and delight your taste buds.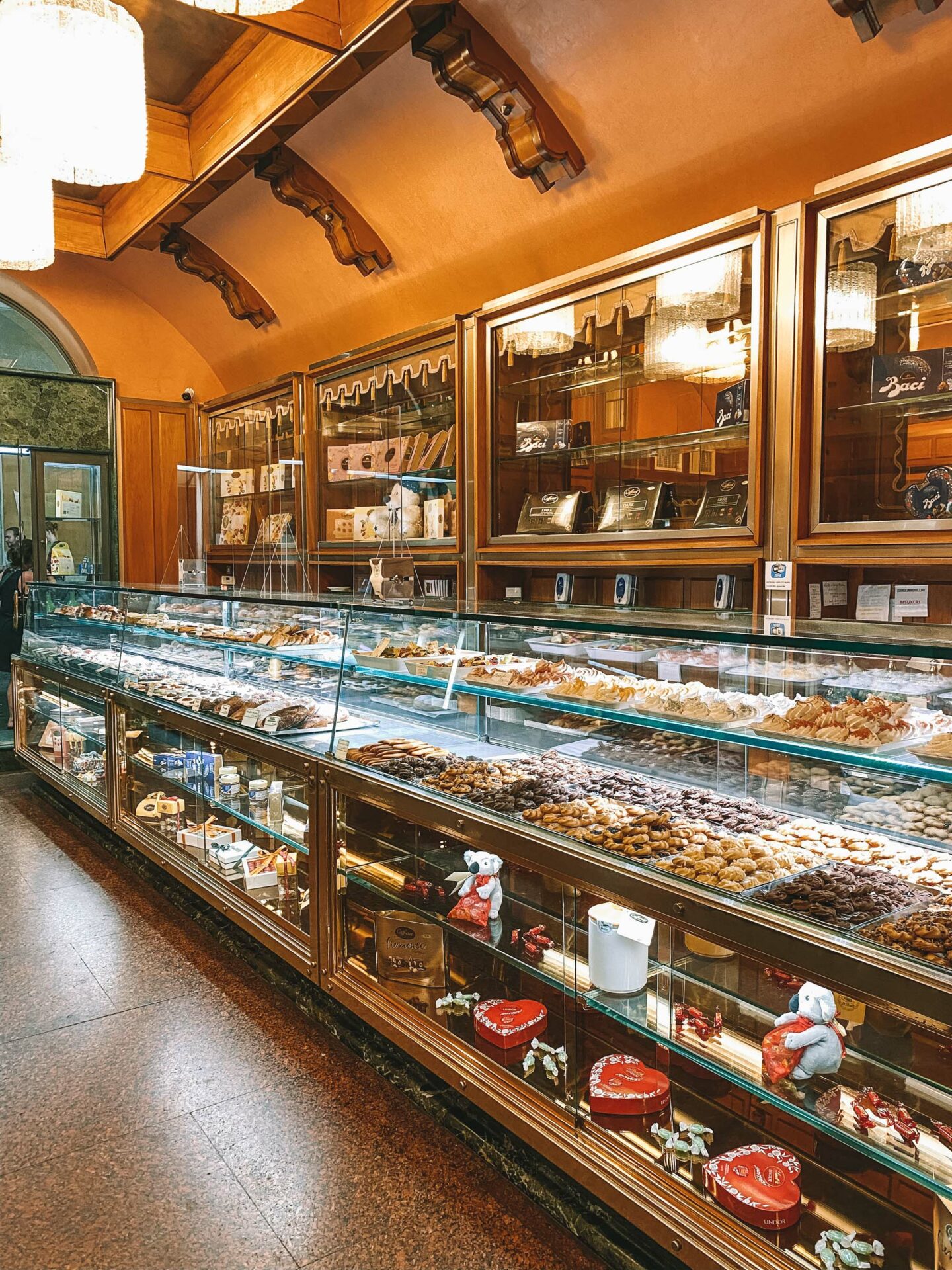 Giolitti – Via degli Uffici del Vicario, 40, 00186 Roma RM, Italy
Also, don't miss Gelateria Frigidarium for an authentic gelato experience in Rome. Using only natural and high-quality ingredients, each scoop is bursting with flavour and made with care. From classic to exotic flavours, you can watch the skilled artisans hand-crafting the gelato right in front of you. It's a favourite among locals and visitors alike!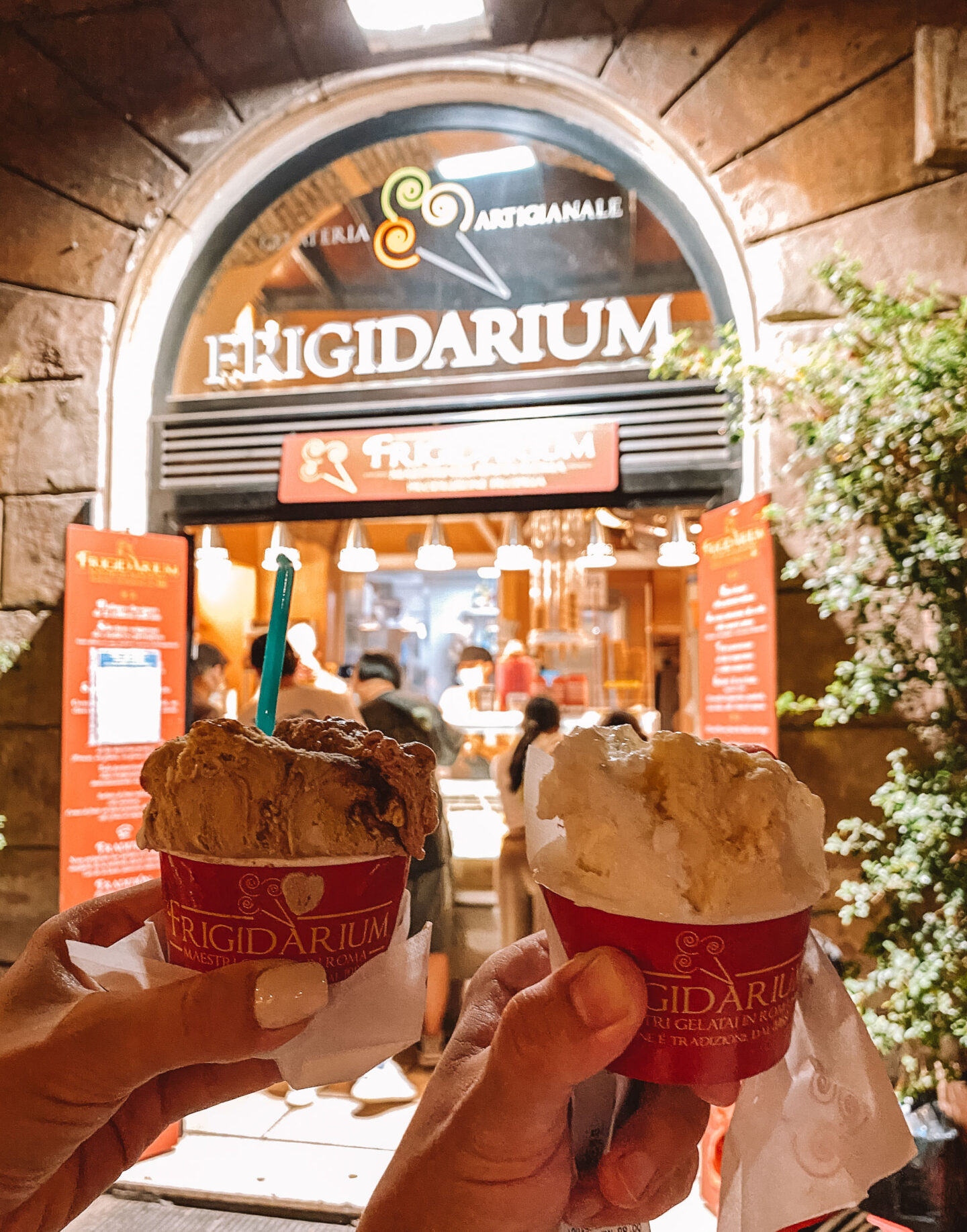 Gelateria Frigidarium – Via del Governo Vecchio, 112, 00186 Roma RM, Italy
FAQs
Is Rome good for a week?
Yes, Rome is an excellent destination for spending a week at. With its rich history, stunning architecture, and vibrant culture, Rome offers a multitude of attractions and experiences that can easily fill up an entire week. From iconic landmarks like the Colosseum, Vatican City, and the Trevi Fountain to exploring charming neighborhoods, indulging in delicious Italian cuisine, and immersing yourself in the city's art and history, Rome has something for everyone.
Is 7 days too long for Rome?
No, 7 days is not too long for Rome. In fact, it allows you to discover the city's treasures and fully immerse yourself in its unique ambiance. With a week in Rome, you can take your time to explore the famous attractions, discover hidden gems, and even venture beyond the city to explore nearby destinations such as Pompeii or Tivoli. Additionally, having a week in Rome gives you the opportunity to relax, enjoy leisurely strolls, and savor the local cuisine without feeling rushed.
How many days do you really need in Rome?
The ideal number of days to spend in Rome depends on your personal interests and preferences. While it's possible to see some of the major highlights in a shorter timeframe, it's recommended to allocate at least 3 to 4 days to experience Rome adequately. This duration allows you to visit the iconic landmarks, explore the Vatican City, stroll through picturesque neighborhoods like Trastevere, and indulge in authentic Italian cuisine. However, if you want to have a more relaxed pace and explore the city in-depth, spending a week or even more in Rome is highly recommended.
How expensive is a week in Rome?
The cost of a week in Rome can vary depending on your travel style and preferences. Rome, being a popular tourist destination, offers a wide range of accommodations, from budget-friendly options to luxurious hotels. On average, you can expect to spend around €100 to €300 per night for a mid-range hotel in a central location. Dining out in Rome can also vary in price, with options available to suit different budgets. A moderate estimate for food expenses would be around €40 to €80 per day, including meals at restaurants and some street food. Additionally, admission fees to attractions, transportation, and other activities should be factored into your budget. Overall, a rough estimate for a week in Rome, including tickets, accommodation, food, and activities, would range from €1,500 to €3,000 per person, but it can be adjusted based on your personal preferences and choices.
Conclusion
With a full week to explore, Rome offers endless possibilities to create unforgettable memories. From iconic landmarks to hidden gems, this ultimate guide can help you towards an ideal trip to Rome. Whether it's your first or fifth visit, there's always something new to discover in this beautiful city. So use this ultimate guide for a week in Rome, Italy and start planning your trip and get ready for an unforgettable adventure!
As always, opinions are my own and are based on my personal experiences.